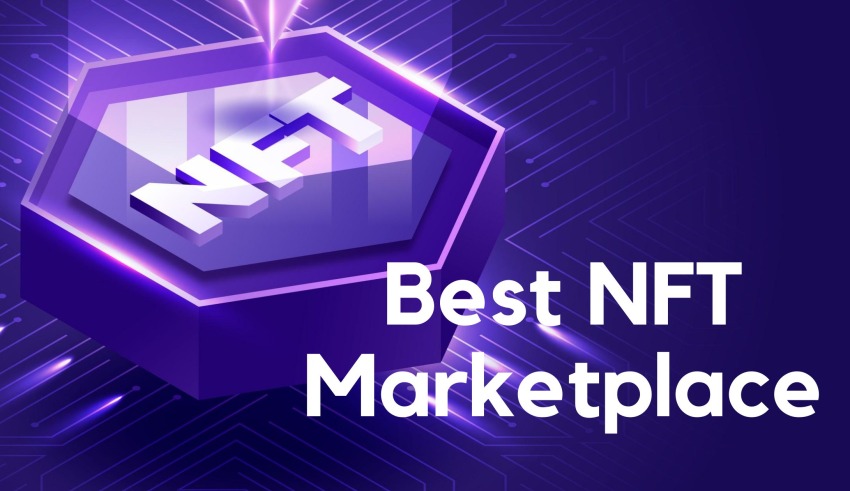 Currently, NFTs have appeared as the new art currency, the new art sharing platform, and the new curator's hub. To be honest, the place is being ruled by the richest people in the world- like everything else. However, NFT Marketplace are basically open to anyone who wants to trade in them and collect digital art. As unpredictable art is, it would not be surprising that a unique sticker you bought from a common artist, turns into the next Monet.
However, if you are getting into this messy business, you really need to know what the best NFT marketplace is. Honestly- it hasn't become very definite which marketplace is the 'best'. Since, NFTs are evolving still, different features will define what the best nft marketplace is for different people. However, in the article below we have listed some of the most popular and currently trending marketplaces for nfts.
Let us first have a look at how you can pick the top nft marketplace for yourself-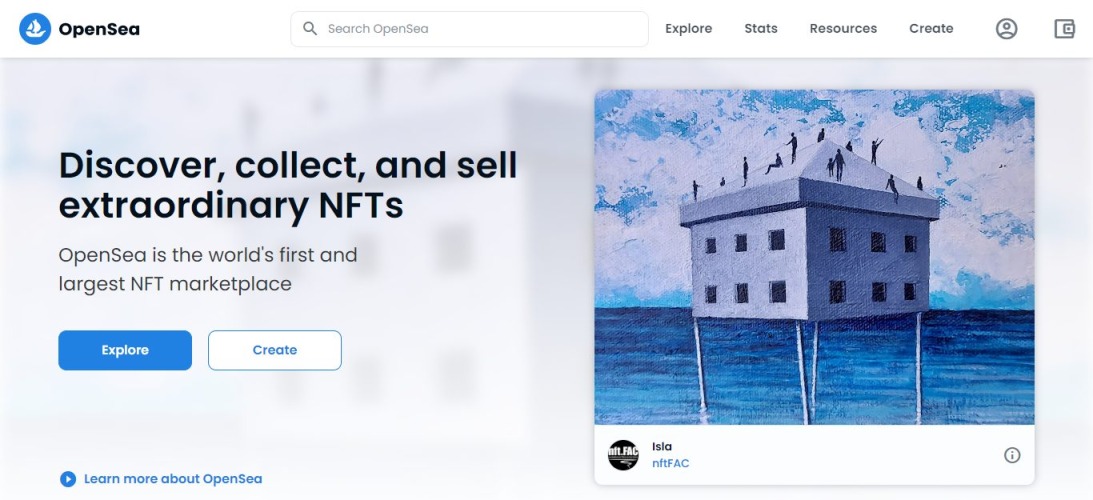 OpenSea is currently considered to be the best nft marketplace around. This place has a range of digital assets that you can easily access from anywhere around the globe. It is absolutely free to sign up to this marketplace if you want to browse everything they have to offer. Moreover, this platform is supportive of artists as well as creators by allowing them to 'mint'. Minting refers to an easy to use process through which you can create your own form of NFT.
This is a marketplace that actually supports as many as 150 different forms of tokens. Therefore, calling it 'Open Sea' only seems apt! If you want to get introduced to the world of NFTs, OpenSea would be the perfect place to start. What is very important to the creators of OpenSea is the future of interoperable standards including ERC-1155 and ERC0721.
These will eventually open the world to a new form of economy that has never been witnessed before. This is a marketplace that work through tools, allowing traders to freely exchange their items.
Moreover, they give complete opportunities to creators who want to develop fresh digital assets. This marketplace also helps developers to create integrated and rich marketplaces where different digital items may be exchanged. Open Sea was founded by Devin Finzer and Alex Atallah who recognized the potential of digital assets very early.
OpenSea is actually the biggest general marketplace that is trading in digital items generated by users. Moreover, they support multiple blockachains and often have the best prices for different genres of virtual assets.
---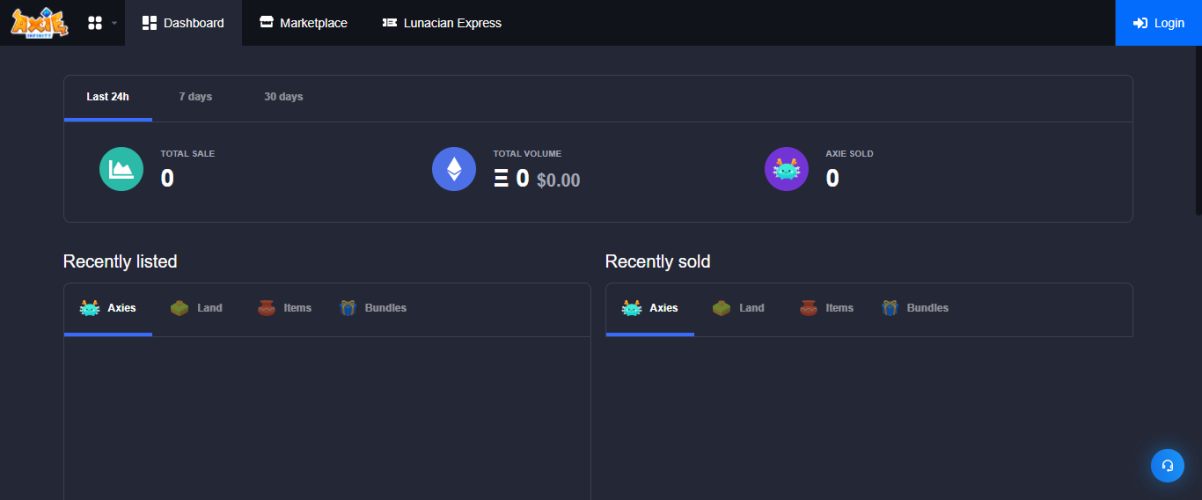 Axie Marketplace is actually the perfect online shop for this very famous video game called 'Axie Infinity'. Axies are highly popular mythical creatures. The best part is that now they can be easily bought and trained.
As a matter of fact, these can also be pitted against other players' Axies. Whoever wins naturally earns more rewards. Within Axie Marketplace- you can easily purchase new Naxies. Moreover, you can also buy entire digital territories as well as many other items. These all act as NFTs within the game. Since it is one of the most popular form of NFT transactions taking place today- we highly recommend you check it out.
Axie Marketplaces uses Infinity Tokens. These are aptly called Axie Shards and are in frequent circulation online. Moreover, they are built on the basis of Ethereum blockchain- which is probably the most reliable and the fastest growing digital token today! As such, these can be sold or bought on a large number of NFT marketplaces. Moreover, you can get easy access to them on places like Coinbase Global or other cryptocurrency exchanges. Hence, practically anyone can get their hands on Axie shards.
It works with a form of crypto asset termed 'dApp'. DApp cannot actually controlled by a single authority. These work on the basis of smart contracts that are highly flexible and can be personalized. In case you want to know if Axie Marketplace is worth tracking and investing in, then you should keep yourself regularly updated with the traded volume through tracker tools.
---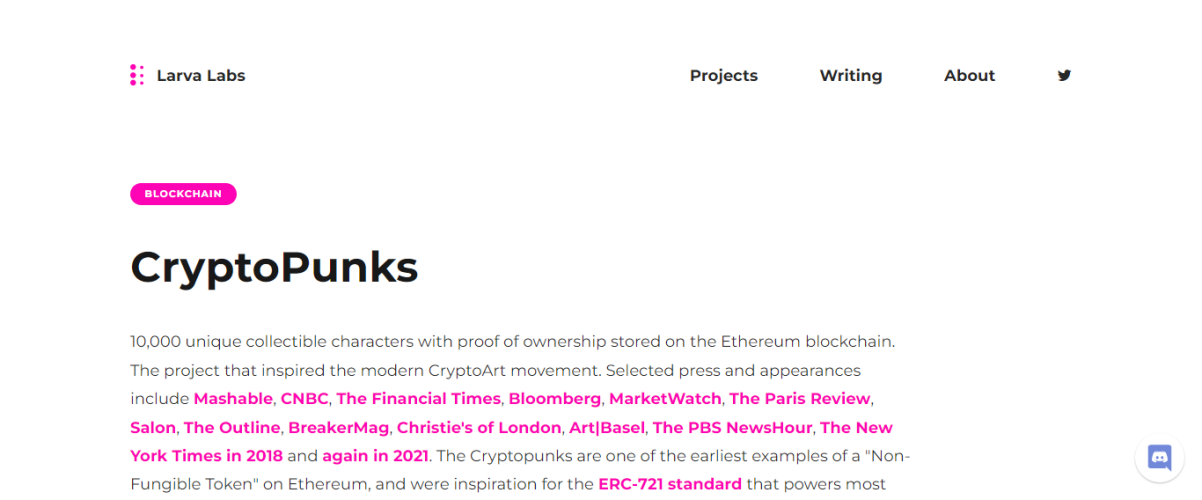 Larva Labs are known best for starting their extremely popular NFT project called CryptoPunks. Originally, they became very popular in 2017. At that time, these were actually distributed for free. However, since then, due to rising demand they are getting involved in transactions that include millions of dollars.
Larva Labs is an amazing NFT art marketplace which also present numerous arts projects. These include the famous 'Autoglyphs' along with various other Ethereum blockchain relatated app development programs.
However, one thing to note is that currently Larva Labs's Crypto Punks have been sold out. However, there are numerous third party marketplaces where you are allowed to bid on them and buy them.
On the other hand, Larva Labs continues to launch different projects with an equal chance of success as Crypto Punks. Therefore, we sincerely advice that you keep track on their happenings. One of their emerging projects include the 'Meebits' that can be bought and sold directly through the marketplace created by Larva Labs.
The creators of Larva Labs have worked on a large variety of software. Their expertise extends to fields like genomics, infrastructure, analysis software, and other art projects. In fact, they also have 8-bit roleplaying games- the likes of which cannot be found anywhere else!
---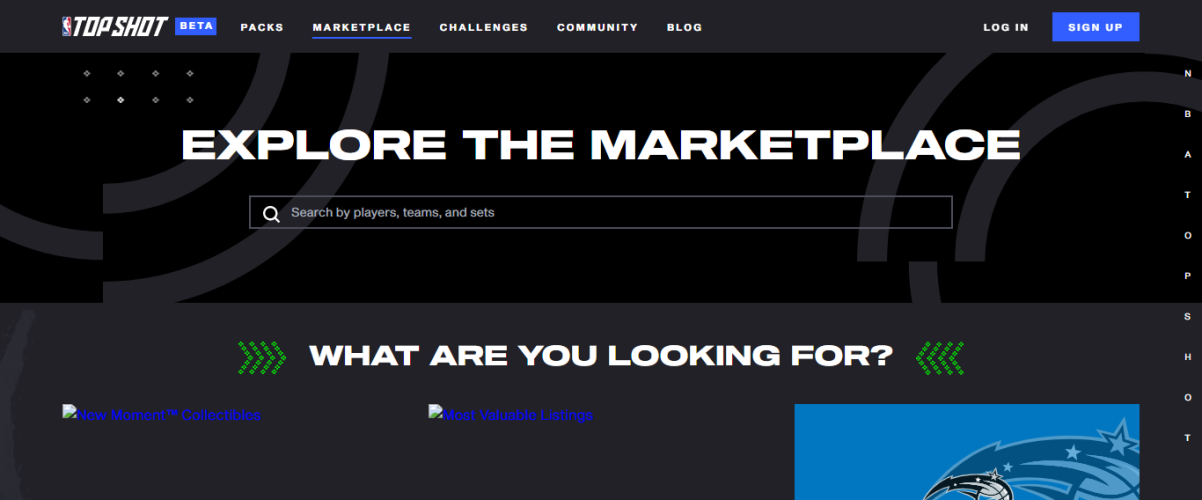 NBA Top shot Marketplace is another revolutionary digital marketplace that you should keep your eyes on. Here, the Women's National Basketball Association along with the National Basketball Association have collaborated to create NFTs particular to their interests and tastes.
This is the marketplace that allows you to get a hold on memorable moments from the game. You can get collectible moments in the form of play highlights as well as video clips. Moreover, this form of art is directly sources from the world's most reputed basketball leagues. Naturally, this place is considered the future of basketball fandom. The collectible is actually based on Flow Blockchain- which another popular token.
However, NBA Top Shot is actually a closed market place, unlike the ones mentioned above. Point being, that transactions on this platform can be carried out solely through Top Shot. The NBA Top Shot has actually been created by Dapper Labs.
This company has earned a great reputation as developers of cryptocurrencies and blockchain. In order to use NBA Top Shot, you need to register on to their platform. You can begin with the starter pack, costing $9 that will also give you at least 3 of the best moments from NBA season as a form of NFT.
---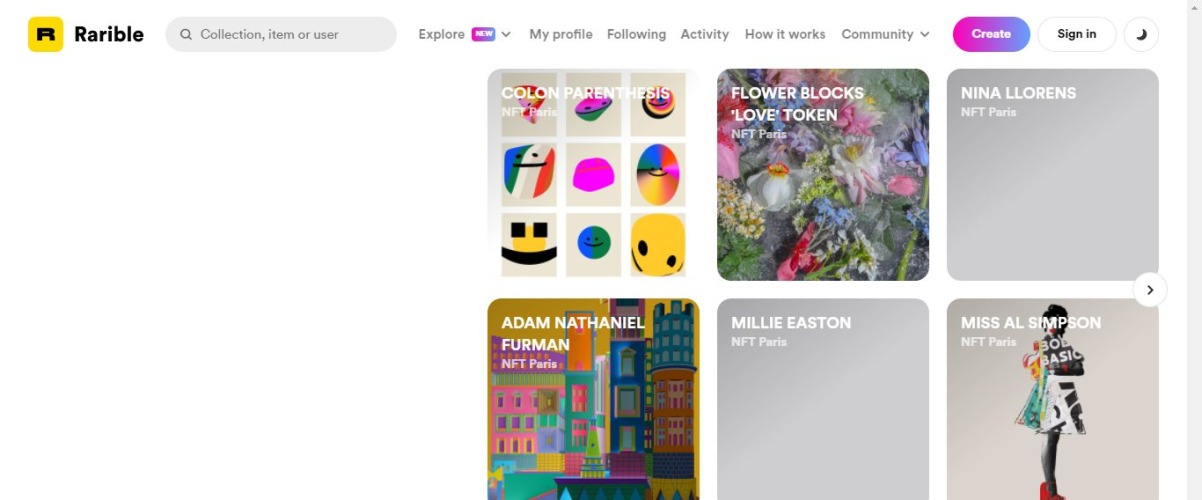 If you have done enough research into NFTs already, then we are sure that you must have come across Rarible as well. This is a place which is open to diverse forms of NFTs and is quite similar to OpenSea. Out here, you can easily get access to collectibles in the form of art, videos, and other digital formats.
Moreover, you can also create music on the platform and turn it into an NFT. Therefore, for artists looking to sell their work- Rarible could be a great place to start from. However, OpenSea allows you to use diverse forms of tokens and cryptocurrencies. On the other hand- at Rarible you can only use their company token 'Rarible'.
Rarible or CRYPTO:RARI is based on the Ethereum blockchain. Another interesting thing you might want to note is that artwork can be easily managed on OpenSea with Rarible tokens! This actually makes it a fluid currency that can come in handy on several occasions.
This company has already collaborated with some well-known brands and companies. Taco Bell from Yum! Have actually had their art listed within Rarible. Furthermore, the immensely popular software company Adobe recently came into partnership with Rarible to secure digital works by various creators and artists.
---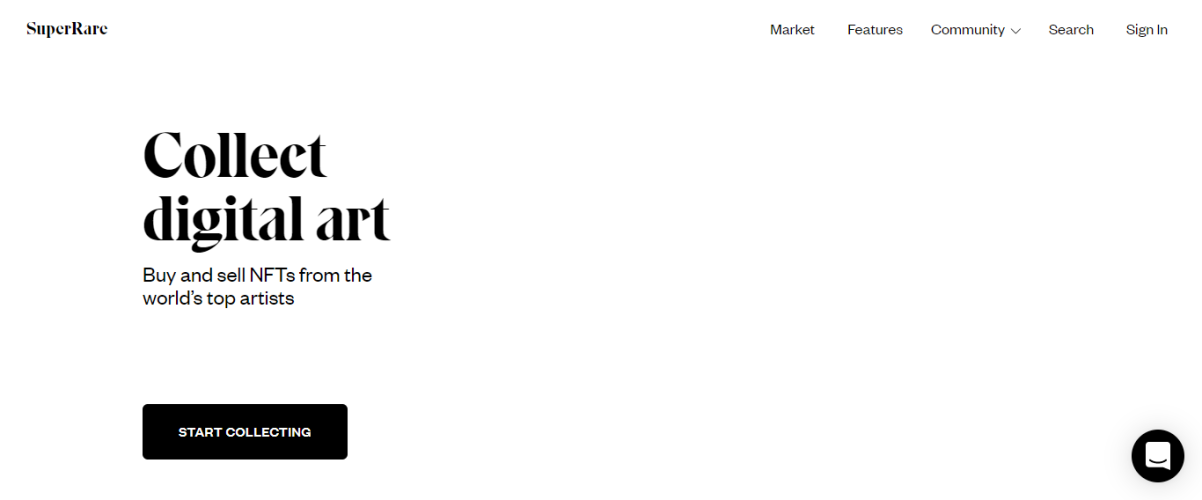 SuperRare seems to have taken inspiration from Rarible- which itself is a lot like OpenSea. It is actually turning into a great marketplace for diverse digital creators. This marketplace contains an array of digital creations including 3D images, videos, as well as art.
It has a native token called 'Rare' which is the most used form of currency within the platform. On the other hand, artwork within SuperRare can also be bought using Ethereum. SuperRare is one of the best performing smart contracts market place and can be a valuable investment with the growing dependency on Metaverse as well as Decentralized Finance.
At the same time, SuperRare tokens can also be used within OpenSea to carry out transactions. It is estimated that in 2022, SuperRare will reach new heights in terms of stock value. SuperRare is particularly focused on empowering art and culture that is turning it into a valuable asset for most creatives in the world.
Currently this cryptocurrency is getting traded at about $1 and is actually ranked 448 in Coin Market Cap. In case you are planning to buy RARE, you will first need access to either Bitcoin or Ethereum and then swap it with the said token.
---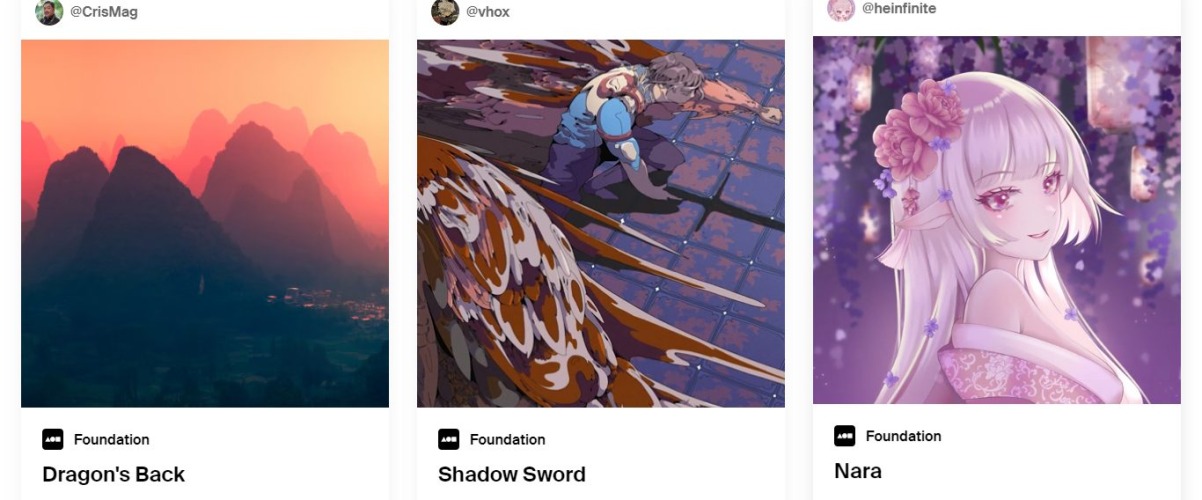 Foundation is actually an app that was designed very recently in early 2021. Since then it has expanded at an exponential rate and carried out NFT exchanges worth more than a hundred million dollars! This itself speaks a lot about the immense popularity the digital marketplace has been gaining.
It has a very effortless, no-frill method through which you can bid on different digital art. Moreover, all sales on the platform are made using Ethereum. Foundation is unique in its functioning as it invites artists into the platform itself. The app also supports creators and allows them to create digital assets through minting. Their aim is to contribute towards building a highly creative economy and uplift creatives across the globe.
After creators receive the invite to 'Foundation' they will be required to set up their wallet with ETH. Only after this can you proceed to create your artist profile and mint your NFT. Your sales are completely private, decentralized, and under your control.
If your artwork sells within the primary market, you will receive as much as 85% of your final sale price. In case your digital creation is collected again within the secondary market, you are still liable to get a 10% royalty! Therefore, collectors who want to resell digital art can also make great money through these transactions, while the original creator continues to receive profit from their work.
---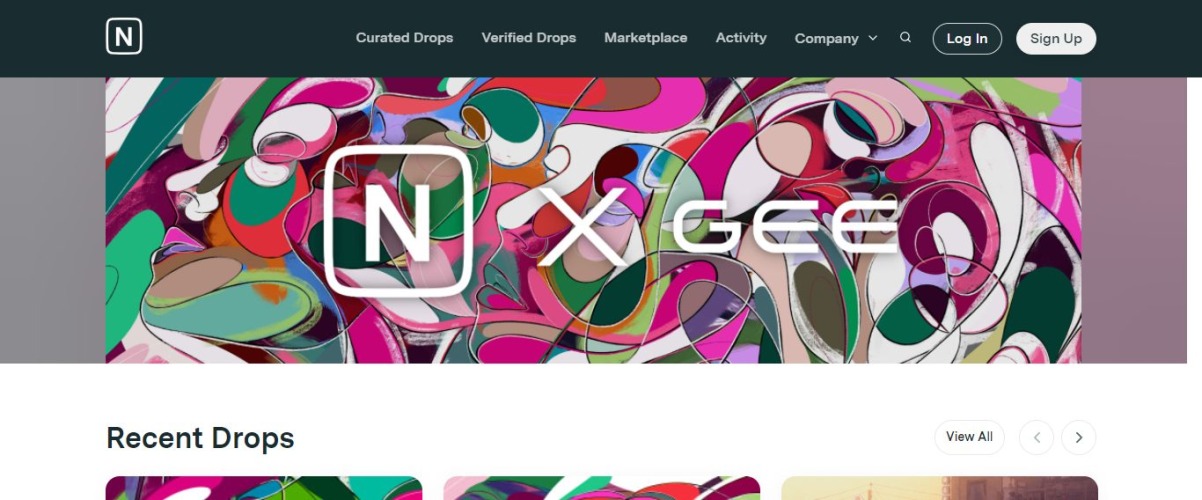 Another one of our most acclaimed digital marketplaces, Nifty Gateway has been responsible for the sale of some of the most trending digital art forms of today. We are sure you have heard of the million dollar transactions that took place between curators and artists like Grimes and Beeple.
Well, Nifty Gateway is the medium through which all of this happened. It is mostly a curation platform for artwork and is powered by exchange tokens like Gemini. These NFTs within the platform are actually known as Nifties- and are built on the ever popular Ethereum. Honestly, Nifty Gateway clearly stands out as one of the best marketplaces for NFT trading today!
It is a highly detailed and curated platform with some of the most exquisite creative pieces you will find. Furthermore, Nifty Gateway is a rare platform that also hosts NFTs purchased. Basically this implies that you don't have to worry about saving NFTs within your own wallet.
Instead, these will be taken care of by Gemini as well as the Gateway itself. However, this does not always work for NFT collectors seeking more flexibility with the kind of art investments they make. Despite this, curators are fond of this platform as Nifty sales and purchases can actually be carried out in fiat currencies! (Meaning you can directly have transactions in dollars, pounds, etc.)
---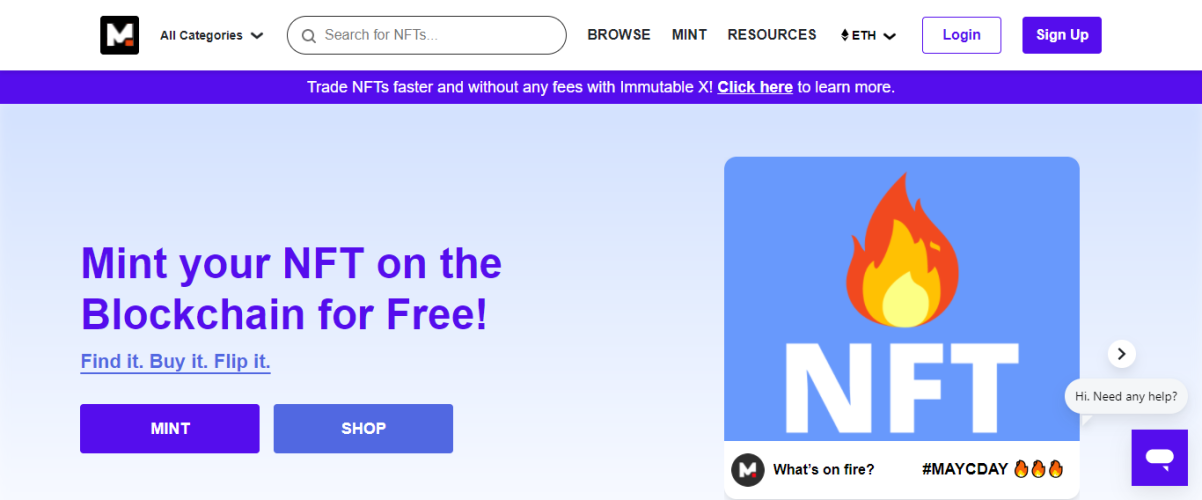 Mintable is a digital marketplace that is being backed by famous billionaire Mark Cuban. It is supposed to function as an open marketplace such as the likes of OpenSea and Rarible. In case you decide to carry out transactions on Mintable, you will need to own Ethereum as a cryptocurrency.
Following this, you can buy and sell NFTs on the platform that take various forms such as art, music, videos, collectibles, as well as Sports highlights. The platform supports all kinds of artists and creatives including photographers and musicians.
Similar to the NFT platforms mentioned above, you will first need access to Ethereum in order to carry out transactions. Again, you will be required to connect your digital wallet to Mintable before you become eligible as a curator within the marketplace. This platform allows you to mint your work without having to pay a fee.
You can either auction your NFTs or directly put them on sale. This marketplace also allows you to use advertising methods, includes custom stores for specific people, and comes with excellent customer service. As a matter of fact, if you so desire- you can easily create your own store within this platform.
---
Theta Drop is actually a strong blockchain platform that has been built in order to decentralize distribution of TV and video over the internet. This revolutionary platform debuted back in 2021, working with World Poker Tour's digital collectibles. In fact, The World Poker Tour was one of first adopters of ThetaTV and used it as a medium to stream their content.
What is interesting to note about Theta Drop is that it comes with its own blockchain technology. However, in case you want to participate within the Theta Drop NFT marketplace, you shall have to purchase the Theta Token.
There are numerous cryptocurrency exchanges that support Theta, including the likes of Binance. All the NFTs or tokens that you purchase with them are easily storable within your crypto wallet.
Also, you get the option to store them within Theta's own digital wallet. Furthermore, this is a real time marketplace for NFTs. This implies that all NFT drops as well as auctions on the platform get live stream. This is a highly unique feature that greatly improves engagement rate within the platform. Also, Theta Drop comes with valuable tie-ups with many televisions as well as cable broadcasters.
Choosing NFTs Marketplace
Remember, firstly that NFT simply implies the ownership of a particular asset. Before you choose an NFT marketplace for yourself, you need to decide what kind of digital art you will be transacting in. NFTs make it possible for everything digital to be tokenized as blockchain. This means, that collector items, art, games, videos, written word- all of these can be bought and sold within an NFT art marketplace. Therefore, the first thing to do would be narrowing down your interests.
Another important thing to see if the marketplace supports the digital token that you shall be using. There are many marketplaces that actually support a great number of digital tokens. However, various others are closed marketplaces that make use of a particular designated token. When you open an NFT marketplace account- just be sure that you are able to fund your blockchain account with an acceptable token or crypto. Otherwise, you will not be able to take part in the website's activity.
As soon as you have opened an account, the NFT marketplace shall require you to link in your blockchain wallet. Again, you need to make sure that the marketplace you are using is safe and there have been no issues related to the same in the past.
Conclusion
NFTs are clearly the new form of valuable assets and art-form on their way to revolutionize the economy. Choosing the right NFT marketplace to begin investing in these assets can prove a little tricky for beginners in this digital economy.
Above, we have provided basic insight on 10 of the most used NFT marketplaces operational today. However, we advise that you do your own research before you venture on to operate within any of them.