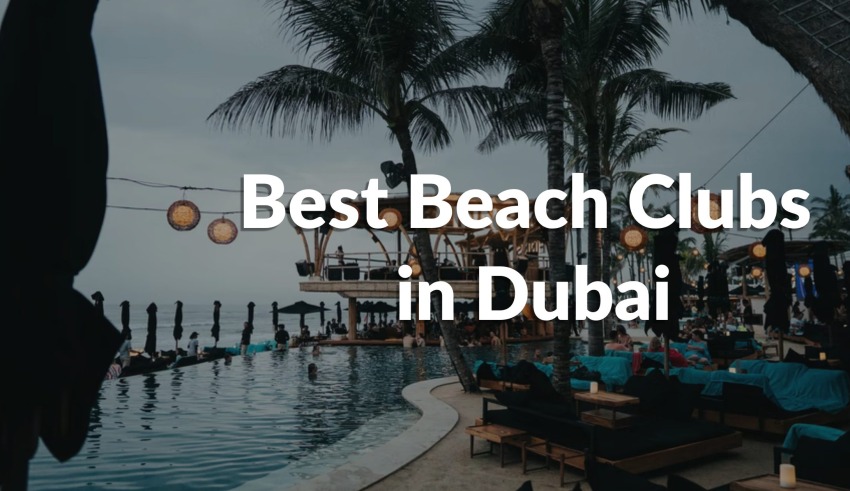 People have become extremely hardworking and have a super busy lifestyle in beach clubs in dubai We all get tired after our hectic schedules. Working nowadays is very tiring. In such a scenario it is very important to take a break from our busy schedules to relax a bit. As the summer is approaching, sitting on a beach and sipping a cool light mocktail is the perfect idea for relaxing for many people. Beach parties and clubbing is taking a boost in the city of Dubai.
More and more beach clubs are opening in the city. All of these beach clubs have different ambiances and different styles. They have a unique vibe and are worth visiting. Dubai being a famous beach club city gets people confused about which club they should visit. It is important for you to select the perfect beach club for yourself as well as your family or friends. That is why we bring you the list of 15 Best Beach Clubs in Dubai.
Here is the list of the 15 best Beach Clubs in Dubai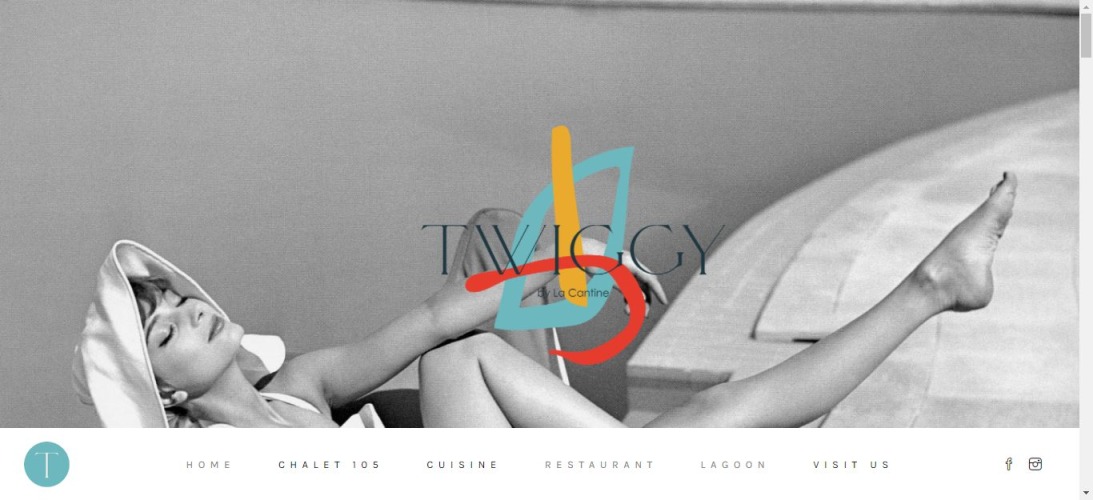 Twiggy la Cantine is one of the newly opened beach clubs in Dubai. Recently it has become a hotspot for youngsters. It is located at the Park Hyatt Lagoon in Dubai. It is the perfect place for people who want to enjoy a sunny day on the beachside.
The waters are calm and soothing along with white sands. It is the perfect place to relax and enjoy time with your family. They also have a 100-meter infinity pool. The view from this pool is the most elegant and one can see blue seas as well as the wide-stretching blue skies.  Twiggy la Cantine serves authentic Mediterranean cuisine along with an amazing drinks menu.
They also offer a variety of sushi dishes. The place has a very beautiful playful vibe with soft blissful music playing constantly. This will make you feel pleasant and energetic. The ambiance of the place includes specially created artwork that will take you back to the sixties icon which it is named after.
The prices on weekdays start from Dh200 and it rises to Dh250 on the weekends. This price not only includes the Twiggy table booking but also gives you the opportunity to visit the famous 100m Park Hyatt Lagoon. All of these things bring Twiggy la Cantine to the first position on our list.
---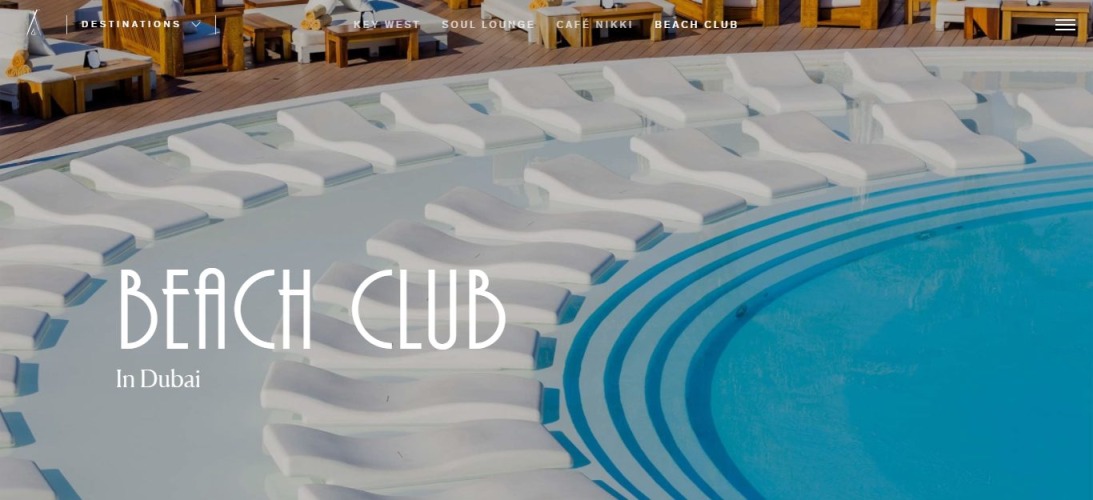 Nikki Beach Restaurant and Club in Dubai is located on Pearl Jumeira Island. It is a 14000 square meter property that has a vast view of the Arabian Gulf. It has beautiful architecture and is a well-designed space. Most of its infrastructure is in white color which gives peaceful vibes to this place.
beach clubs in dubai also have one of the most amazing Dubai downtown landscape panoramic views. They have poolside tables for lunch and facilities like cabanas, beds, and sofas. They also have luxury private cabanas and a comfortable double-bed or single-bed selection.
The DJ is constantly playing songs along the poolside bar which gives a lot of energy to this place. The plus point about this place is that they cover almost everything- food, music, art, film, fashion, and entertainment. This place has high reservations and hence one cannot visit this place without prior booking.
It is open from Tuesday to Sunday, with prices ranging from Dh200 to Dh350. If you want to enjoy an amazing beach party or a poolside lunch, then this is the perfect place for you.
---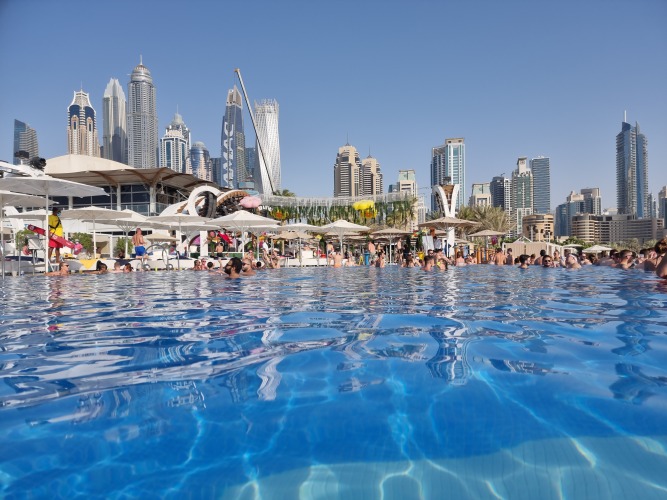 Zero Gravity Beach Club is one of the most famous hangout locations in Dubai since the year 2013. The place has good food, great music, a big infinity pool, a club as well as a bar. It is located next to the Dubai Skydive Drop Zone in Al Sufouh. Around 5500 guests visit this place daily from morning to night to enjoy the poolside fun and the night party life.
This place is also a host to several events and famous DJ parties. A day pass costs Dh150 for women and Dh250 for men on weekdays. The same price increases to Dh250 for women and Dh300 for men from Friday to Sunday. This price includes table reservation, poolside facilities, fruit dishes, Ice lollies, cool towels, and other such facilities.
There is free entry for ladies on Tuesdays. If you wish to enjoy your day and spend a good time from the morning to the night, then you should definitely visit the Zero Gravity Beach Club.
---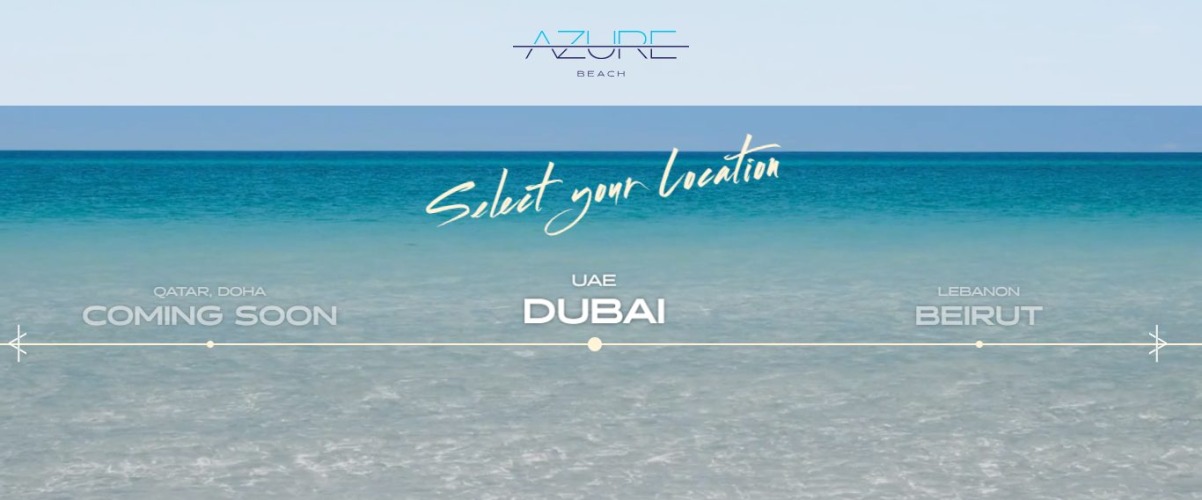 This is a favorite luxury place of almost all Dubai residents. It is one of the top luxury hotels in the UAE. Azure Beach has recently introduced its new luxury segment private plunge pool cabanas. These six cabanas have individual pools where couples can enjoy their time and have a little privacy.
They offer amazing food and provide a fun poolside experience. This place is super expensive when compared to the other beach clubs on our list, but at the same time, they provide the best quality service you will ever experience. Private Cabanas at Azure Beach cost Dhs4000 and large-size private cabanas cost around Dhs6000. Irrespective of the high pricing this place is always booked. Prior reservations are highly recommended if you wish to visit this place.
---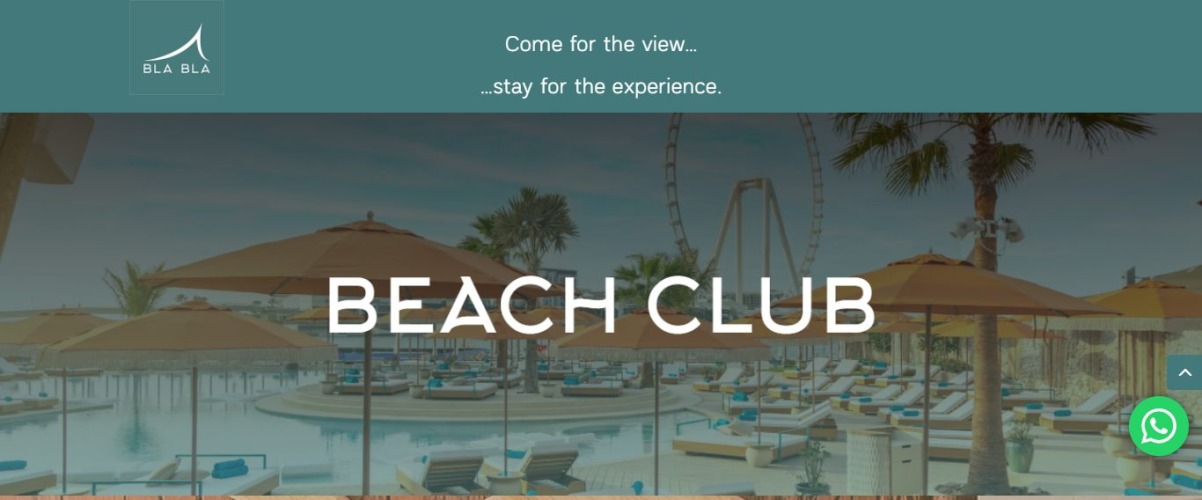 Blab la beach club is located at the beach, exactly opposite JBR. beach clubs in dubai serve alcohol, beverages, food, shisha, and live music nights. They have a big infinity pool which has a beautiful view of the sea as well as the Dubai eye. They have great customer reviews for food as well as service.
beach clubs in dubai also have several poolside facilities like showers, towels, changing rooms, dryers, etc. Their kitchen offers three types of cuisines. They also have a party hall and an amazing party life.  It is open throughout the week and is pretty affordable for everyone. Its price ranges from Dh200 on weekdays to Dh300 on weekends.
---
Cove Beach Club is the ideal beach lounge for youngsters. You can spend your sunny day on white sands with cool breezy air all around the place. It has an amazing lounge-style infrastructure with a number of open spaces and cozy sit-outs.
They serve authentic Mediterranean food with a modern twist to it. Their seafood dishes are very famous and are a must-try. They also offer European cuisines from French food to Italian dishes. Their prices range around Dh200 on weekdays and Dh300 on weekends. They are open all seven days a week.
---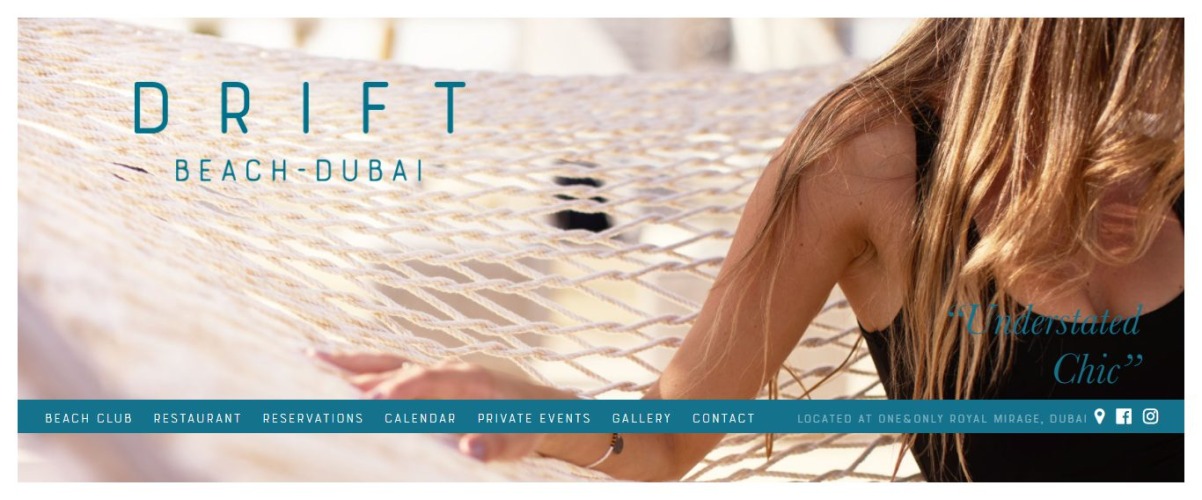 Drift offers an amazing beachside experience. One can enjoy their day playing in the clean waters and sipping a drink. It has a relaxed ambiance with cool tones and a vibrant atmosphere. They also have private cabanas for those who wish to enjoy their time in privacy. The ambiance of this place is very pleasant and fresh because of the plants and lush green grass.
As the sun starts setting the mood and the vibes of the place change drastically. The tempo of the place suddenly gets elevated to the next level. It offers the best infinity pool experience with a view of Palm Island Bay and the Dubai skyline. The restaurant and bar at Drift Beach Club offer classic Provençal cuisine.
This cuisine involves all organic food items, fresh spices, and unique tastes. It is open seven days a week with a price ranging around Dh200. They also host private events. If you wish to try new cuisine and enjoy your day watching the Dubai skyline then this place will always offer you the best experience.
---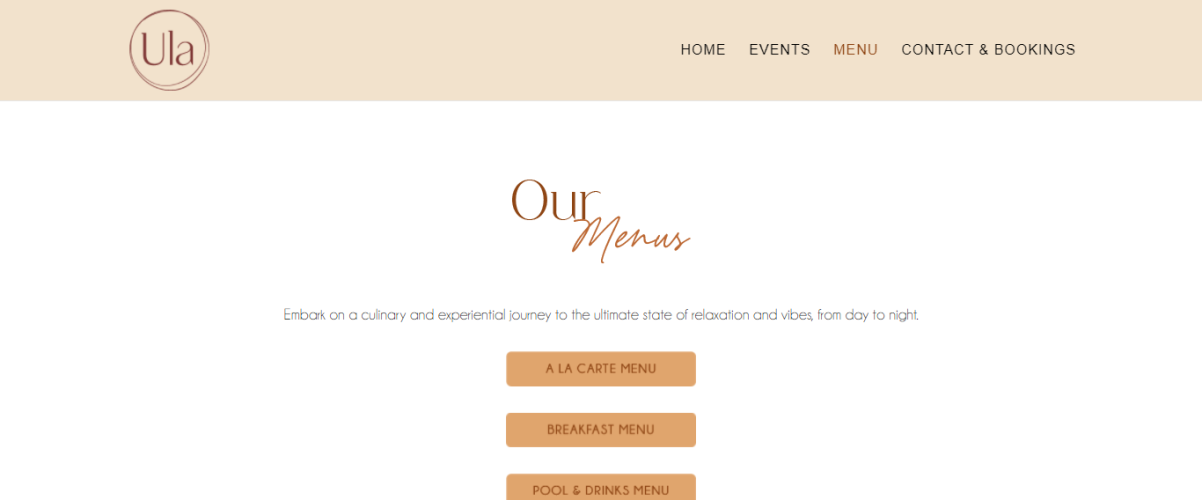 Ula Palm Jumeirah is located next to DUKES the Palm, Royal Hideaway Hotel. It offers an extensive Mediterranean food menu along with cool beachside vibes. beach clubs in dubai is a very elegant location, where one can enjoy quality time with their family in the golden sands.
It has a beautiful view of the Arabian Gulf. Its infrastructures are wooden and bamboo-based which gives a unique vibe to this place. One can visit this place to enjoy their holidays and just relax. They offer delicious food and an extensive variety of dishes.
This place is well known for its dessert specialties. Compared to other locations on our list it is comparatively cheap. Its per day pass price ranges around Dh100 to Dh200.
---

White Beach is a new club started at The Atlantis in Dubai. It has a photogenic infinity pool with an amazing view of the Dubai Skyline. It offers the best food you will ever experience. This place has received some of the best food reviews from top chefs around the world.
This place has open spaces as well as a huge terrace that offers the best sunset experience. They are open all seven days. Mondays are ladies' days, where they get free beverages and discounts on the food menu. Other than the beachside experience, one can also avail of facilities at the Atlantis.
The prices range from Dh200 on weekdays to Dh300 on weekends and public holidays. So if you wish to enjoy a beautiful sunset along with your partner then you should definitely choose White Beach at Atlantis.
---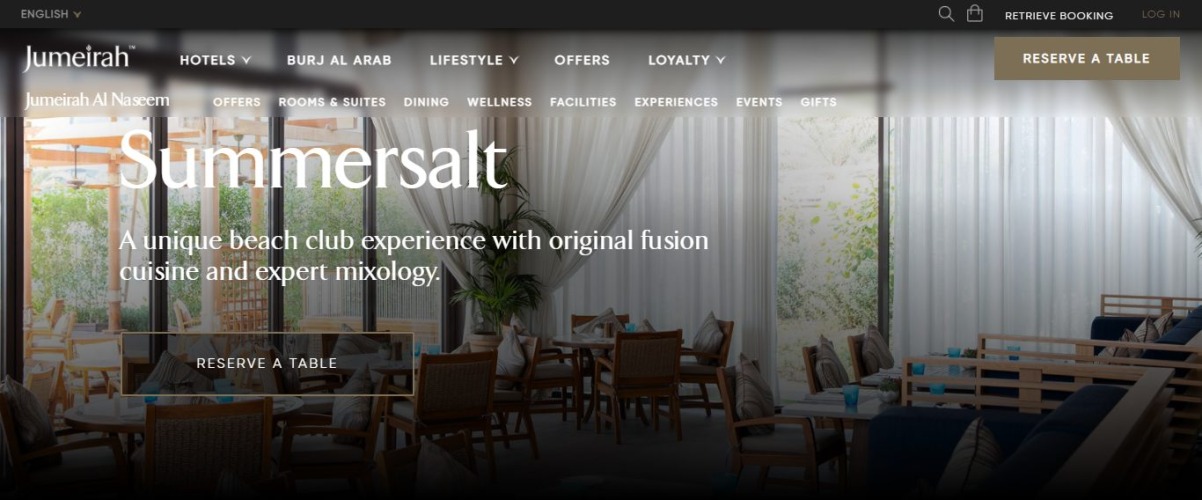 Summersalt Beach Club offers a unique experience. It is located at the Jumeirah Al Naseem Hotel. It is a quiet remote location, where you can enjoy peace. beach clubs in dubaioffers a grand view of the Burj Al Arab. After spending a hectic week, this is the perfect place to go and relax.
One can enjoy pool facilities, beachside activities, beverages, and awesome food. They also serve signature beverages and homemade ales. They offer a three-course menu with a variety of cuisines.  The DJ keeps the mood light by playing soft tunes and delightful music. It is open all seven days. It costs around Dh200 per person on weekdays and the same price goes up to Dh400 on weekends. This is a great option for youngsters as well as newly wed couples.
---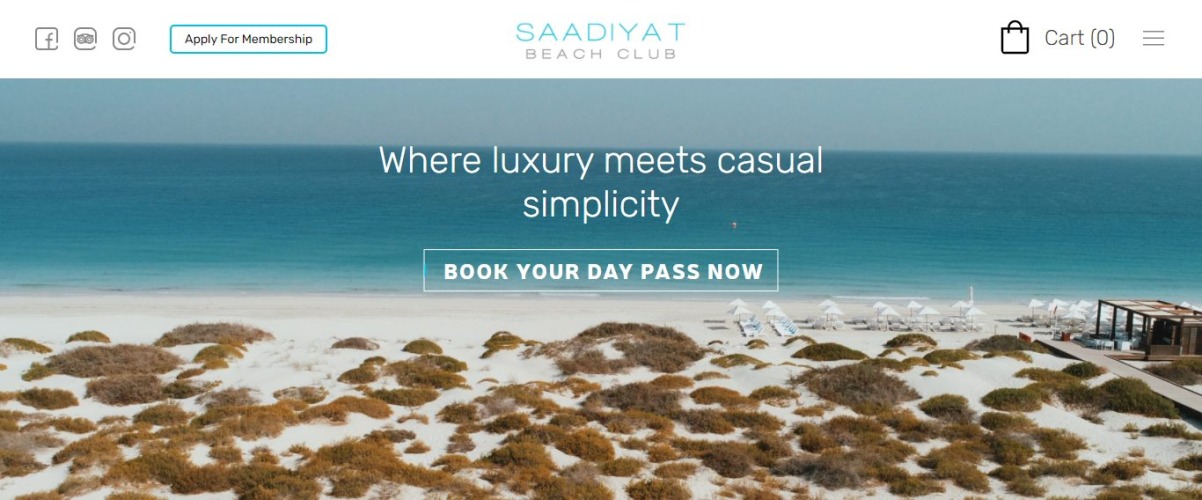 Saadiyat Beach Club offers a soothing experience around natural beauty. It is located on the Saadiyat Islands. The ambiance has several tree plantations and cozy setups that will help you relax. They have a long blue infinity pool.
The entry includes pool activities, beachside fun, spa facilities like massage, sauna, jacuzzi, and many other facilities. It is open seven days a week with a couple entry of Dh350 and a single entry of Dh250.
Here you will be able to relax using these facilities. This is the perfect place to take your family for a weekend holiday. Also, this place is one of the top-rated locations in Dubai.
---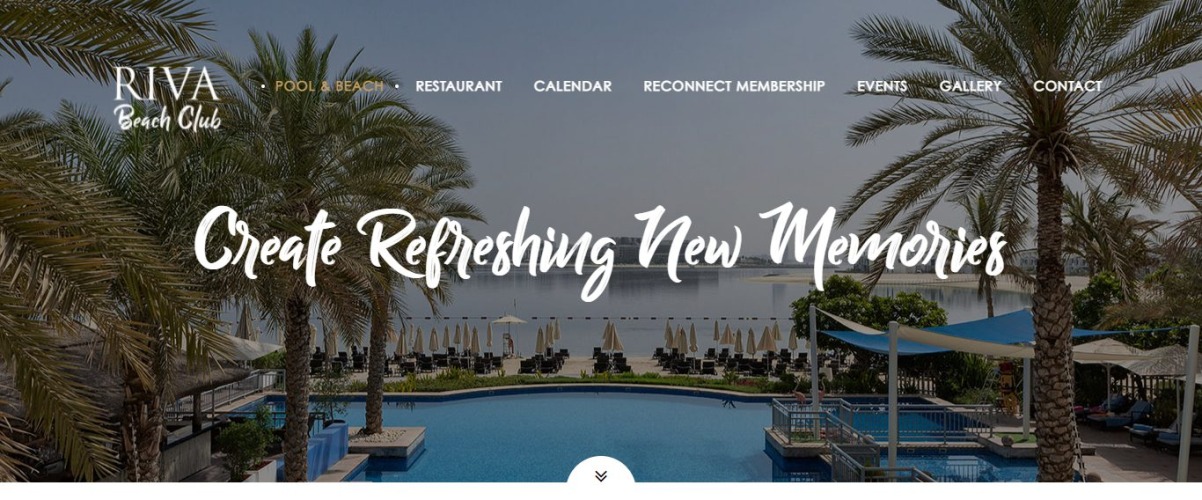 Riva Beach Club is a six-year-old club, but still the local favorite. Even today many people attend parties at this club. This club offers the best nightlife in Dubai. beach clubs in Dubai have a temperature control pool, beachside restaurant, bar, lounge, gym, etc.
They also have an in-house Sophie's Café which is very famous. They also offer beachside facilities like wakeboarding, kayaking, scuba diving, snorkeling at an additional price.
It is open seven days a week and reservations are advised. Price ranges from around Dh100 to Dh200 on weekends. If you wish to enjoy adventure sports on your holiday then this is the right place for you.
---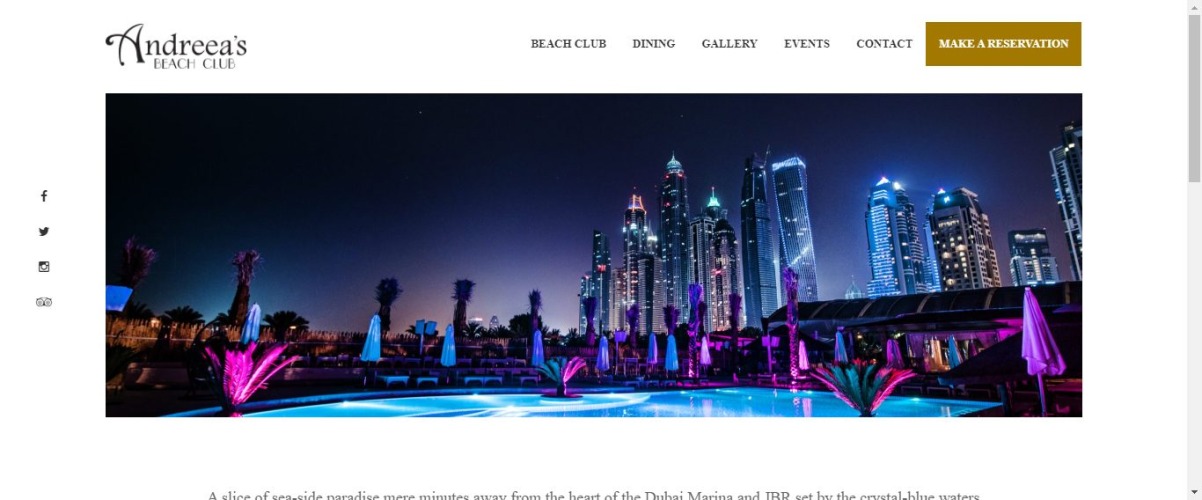 Andreea's is located at Habtoor Grand Resort Autograph Collection. It has one of the most unique ambiance and modern infrastructure. It has a crystal blue pool with several palm trees surrounding it. This adds to the vibe of this place. It offers a Dubai Marina Skyline view.
The food at this place is amazing. They serve premium international segments of food from a variety of cuisines. They serve Mongolian lamb, Italian Napolitana Pizza, and Sushi varieties. It is a peaceful place and is best to visit on weekends. This place is a must-visit location. The price starts from around Dh250.
---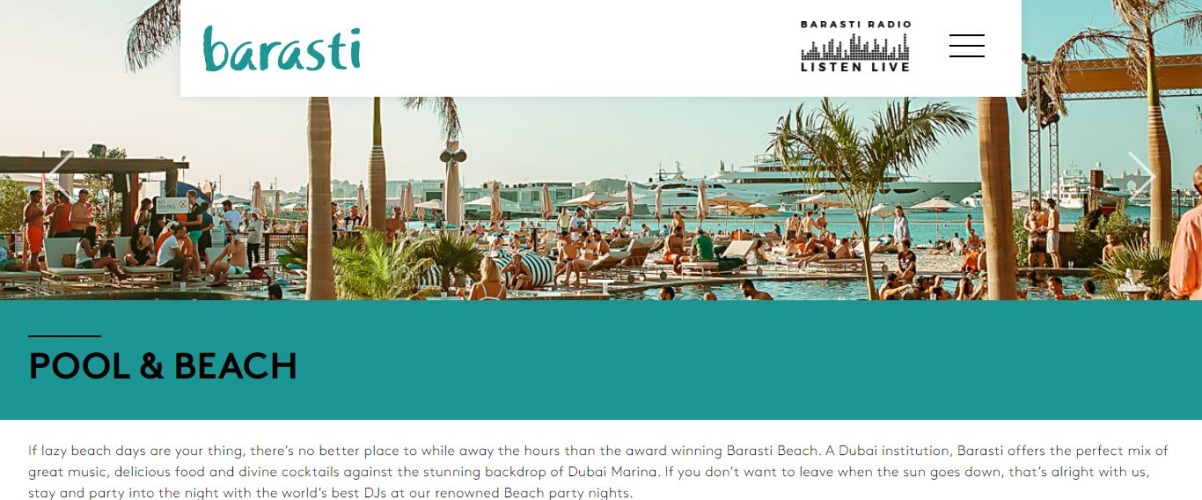 Barasti Beach Bar is an evergreen crowded place. People just love this place and visit it very often. If you want to spend a lazy beach day, then this is the perfect place for you. It offers the perfect blend of music, food, and drinks. After the sunset, some of the world's top DJs visit this place, and the crowd grooves on the beats.
It is open seven days a week. They have a vast outdoor seating area and a huge sports screen. They serve amazing food and have received five star reviews. It has an extensive view of Dubai Marina Bay. The unique thing about this place is that it has free entry. This attracts huge crowds to this place.
---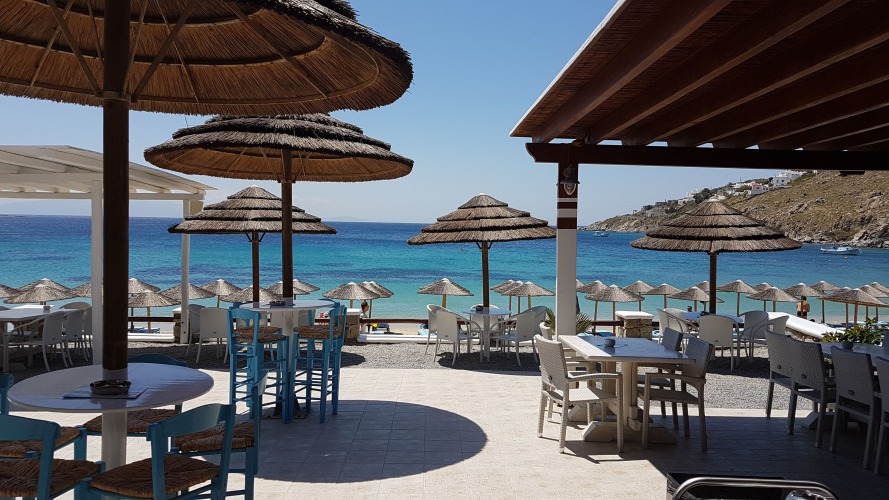 Nammos is a well known chain of beach club restaurants. It is all about elegance and style. It is less of a beach club and more of a fine dine.  is located the Four Seasons Resort in Dubai. They offer the best food as well as entertainment.
It is well-known for its quiet and calm ambiance. They offer premium signature food and beachside shisha. Compared to the other beach clubs on our list this one is a little costly. The entry is same as the other locations Dh250, but the food is expensive.  It is open seven days a week and provides great hospitality.
Conclusion
So this was the list of 15 Best Beach Clubs in Dubai. These beach clubs have received top customer ratings and great customer reviews. The provide best music, food, beverages as well as entertainment. If you feel tensed and wish to take a break from your routine, then these are some of the places you should definitely visit.
They'll help you relax and will help you enjoy your time. These places are good for almost all age groups as they provide memorable experiences. So what are you waiting for? Go get your tables reserved and enjoy the beachside fun!
We hope that this list helped you find a location that matches your vibe. Feel free to drop other suggestions in the comments section. Also, don't forget to save this article for future use.  If you liked this article make sure you visit our space for similar recommendations on various topics.