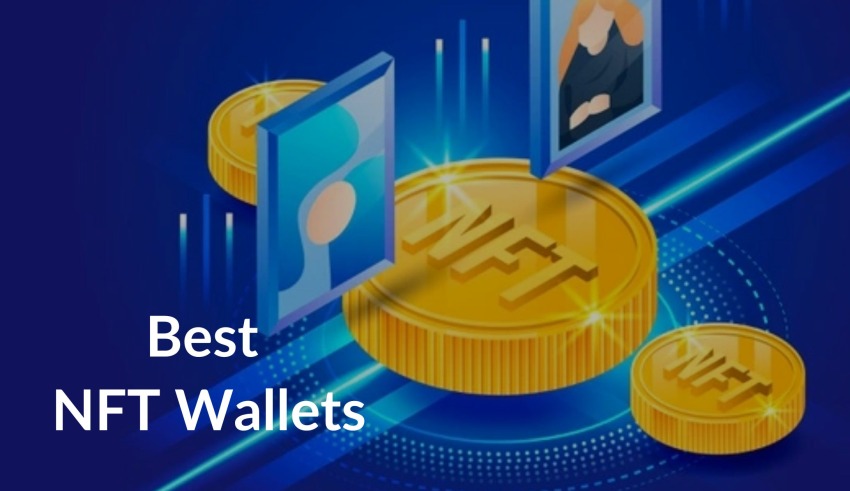 NFTs were popularized because they existed on the Ethereum blockchain. Even now, the Ethereum chain is mostly used for minting NFTs. But there are other chains like Binance Smart Chain or Solana that are trying to get a piece of the market. So, when you own the best NFT wallet you can handle different NFTs across different chains.
Nowadays, there is a surge of NFT investors looking to invest millions of dollars in the NFT market which has made many companies step up and provide a variety of different features to their wallets. So, obviously, there is a lot of competition among different companies to provide the best NFT wallet for clients.
Let's take a look at some of the best wallets for NFT.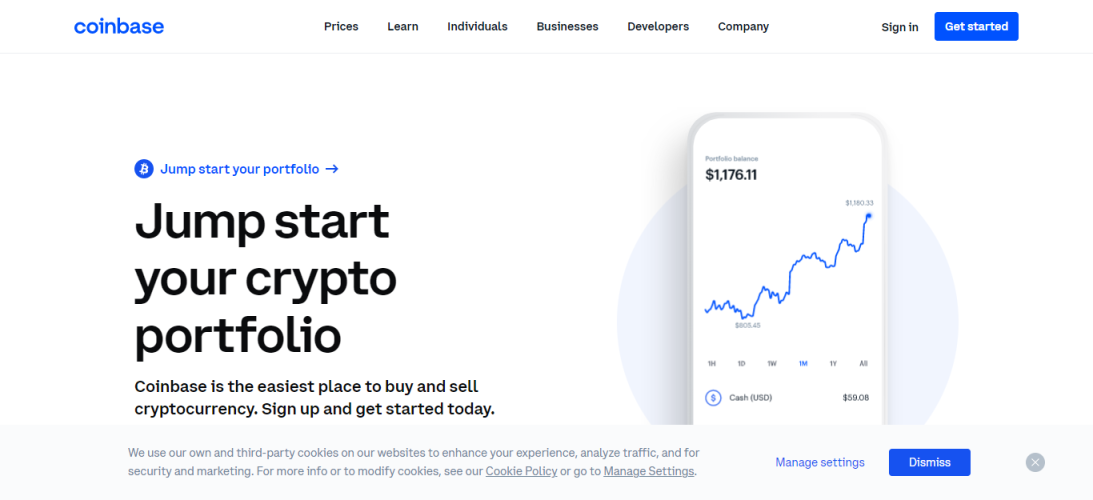 Coinbase is a big name in the crypto currency industry. They have been providing platforms for people to get into the crypto industry and make trades and investments. The aim of the company has always been to build an efficient system that allows people to access the different chains and use it as a trusted financial system.
Coinbase has a decade of experience having started in 2012. The initial idea was accessibility to the world of crypto currency. Back then the most popular currency was Bitcoin and Coinbase aimed to create a platform that enables people to send and receive Bitcoin securely without much hassle.
Today, Coinbase has grown a lot. They have gained millions of users and every quarter trades and transactions worth $327 Billion take place. A total of $255 billion worth of assets are handled by the platform.
Coinbase allows you to buy NFT. If you are looking for the best NFT wallet then this is definitely one of the options to check out. You can easily manage and track your crypto portfolio using this platform.
If you are a new NFT user you can start trading quickly because Coinbase can provide access to fiat currencies. The user-friendly interface and the security of the application make it much more desirable. So, this is one of the NFT wallets to consider if you want to buy wallets for NFT.
---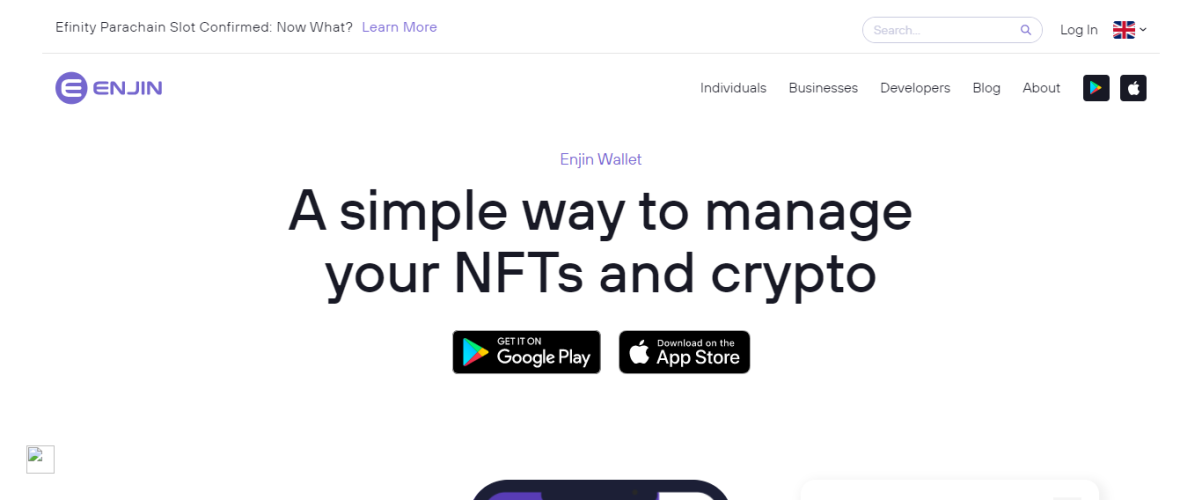 If you have been in the crypto industry for long enough, you will have probably come across a crypto currency named Enjin (ENJ). Enjin is a tech firm that aims to create a much better future when it comes to virtual economies. Like many other companies that have realized the power of blockchain, Enjin is striving towards using this powerful technology and creating a product ecosystem to further its aim. Enjin is older than Coinbase as it was founded in 2009.
The total worth of the assets that the company has created so far is $1.16 Billion. They have a total of 12.4 Million ENJ coins locked in assets. Today, the company has a distributed team all over the world that works towards creating some of the best-quality futuristic products. You can buy and sell NFTs using the Enjin wallet.
Everything has been optimized so that you have access to all your NFTs and crypto assets at one place. You can not only trade in crypto currency but also trade in NFTs. It supports the creation of multiple accounts so that you can separate each account depending on your usage.
You can import old wallets in this wallet and if you use a hardware wallet like Trezor or Ledger you can connect it to the Enjin wallet app as well. So, you can definitely take a look at Enjin wallet if you want to buy the best wallets for NFT.
---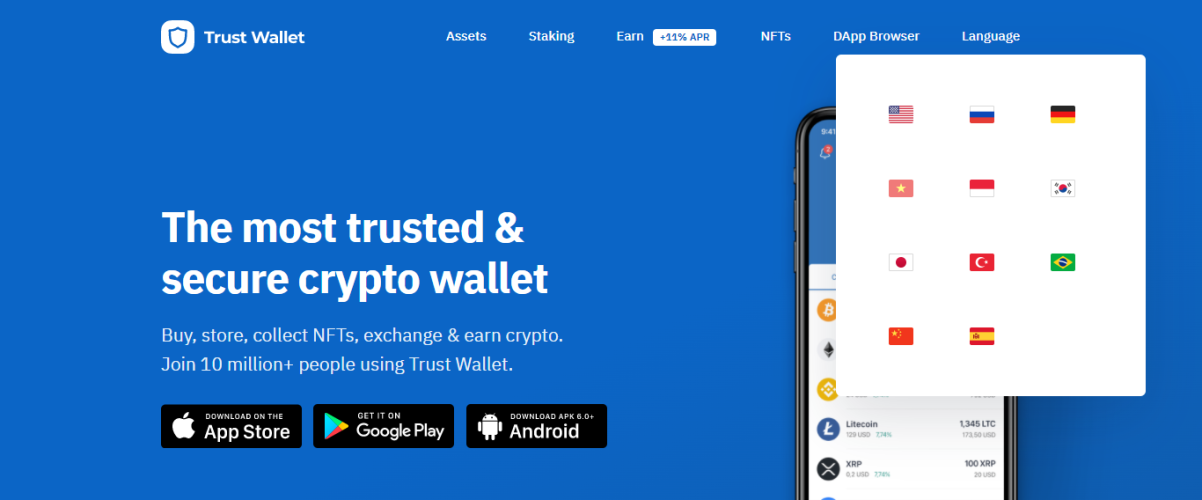 Trust Wallet is one of the wallets for NFT that can be used for storing, collecting, exchanging and earning crypto currencies. Like many such wallets, Trust Wallet is a nice wallet to use if you want to collect and trade NFTs. The company claims that more than 10 million people all over the world are using Trust Wallet for their daily crypto needs.
The company is very proud of the ease and speed it provides when it comes to crypto currency trading and stuff. You can buy crypto with a card and then start the exchange process instantly if you want. It is completely private and secure to use. You can buy Bitcoin in under five minutes by using this wallet.
A lot of wallets might take you to another app or might open a browser when you want to exchange crypto but with this wallet, you don't have to leave the app. You can directly exchange cryptos without any problem within this app. Whenever you have some crypto in the wallet you can start earning interest on that crypto.
If you buy any NFTs, which you will since you are looking for the best NFT wallet or art in the crypto space you will be able to see these assets easily in this wallet. Besides that, there are different tools that lets you see charts and pies to help with analysis. Trust Wallet is a secure wallet and it promises to protect your assets from scammers and hackers.
---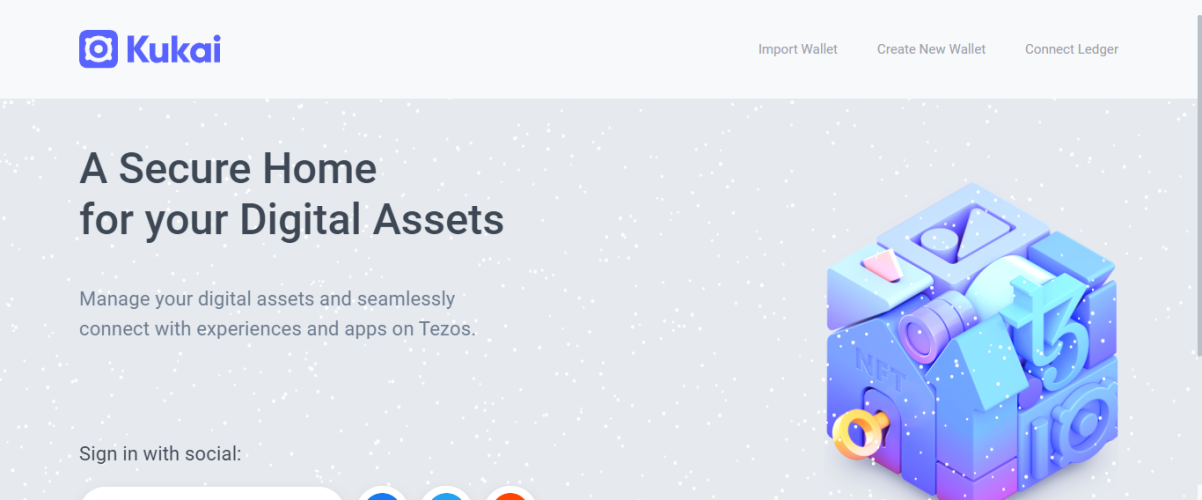 Tezos is one of the popular crypto currencies out there and the team behind this ecosystem have been constantly focusing on making the chain better so that more stuff can be built on top of it.
Kukai is a crypto wallet that has been built on the ecosystem of Tezos. The more that Tezos evolves the more powerful the applications built on it become. A few months back the team behind Kukai upgraded the wallet they built and they made it more secure and named it Kukai 2.0.
The company always ensures that the needs of the users stay as its primary goals and they build and evolve in such a way that the user-experience becomes better. Like AlphaWallet Kukai is an open-source wallet as well. It provides a nice interface so that you don't have to go through any hassle while conducting your daily crypto activities while at the same time providing a very safe way for you to keep your assets secured.
Using the Kukai wallet you will be able to trade all the cryptos and tokens and see all your collectibles at one place. Using this product you will be able to seamlessly integrate your digital assets to various devices and systems you use and organize them effortlessly.
You can import all standard wallet formats and even connect to a ledger. The company provides an integration called the Ledger Nano integration that is a way for you to store NFTs in a secure environment.
---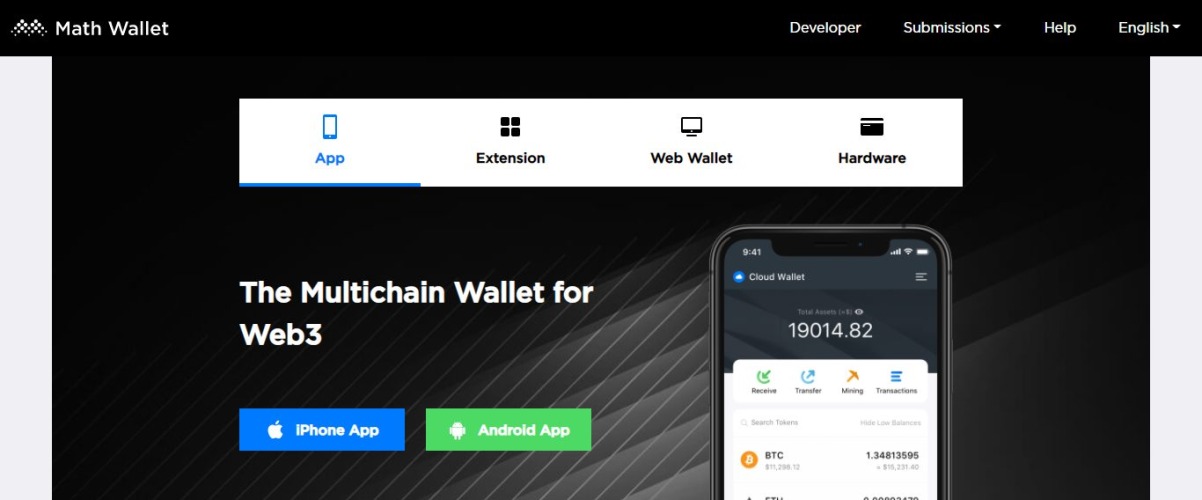 Another NFT wallet that a lot of people are interested in using is the Math Wallet. It is a multi-chain wallet that has the support for more than 60 chains including all of the popular blockchains like BTC, ETH, Polkadot, BinanceChain, Solana etc. Currently, over a million users use Math Wallet for their crypto needs.
The wallet is built by developers at MATH which is a cross-chain and multi-chain assets hub. The company has launched multiple products in the crypto space. MathDAppStore, MathCustody, MathNFT, MathHub, MathChain, the popular Math Wallet and many more.
The company promises that Math Wallet is your gateway to the world of Blockchain because it supports so many chains and you can do cross-chain transactions. Math Wallet mobile application can be used to manage your assets and crypto currencies.
The company uses advanced technology of blockchain and cryptography to provide you with an efficient and secure platform to do your crypto transactions.
You can easily manage and transfer crypto assets by using this wallet. If you are just starting out in the blockchain industry and want a suitable tool to handle all the different stuff related to the tokens you own, the NFT assets etc. then Math Wallet is one of the best wallets for NFT. Many big-name companies in this industry like Fenbushi Capital, Alameda Research, Binance Labs etc. are backing up this project.
So, you can trust that the developers are going to keep on improving everything and working towards giving the users a much better experience.
---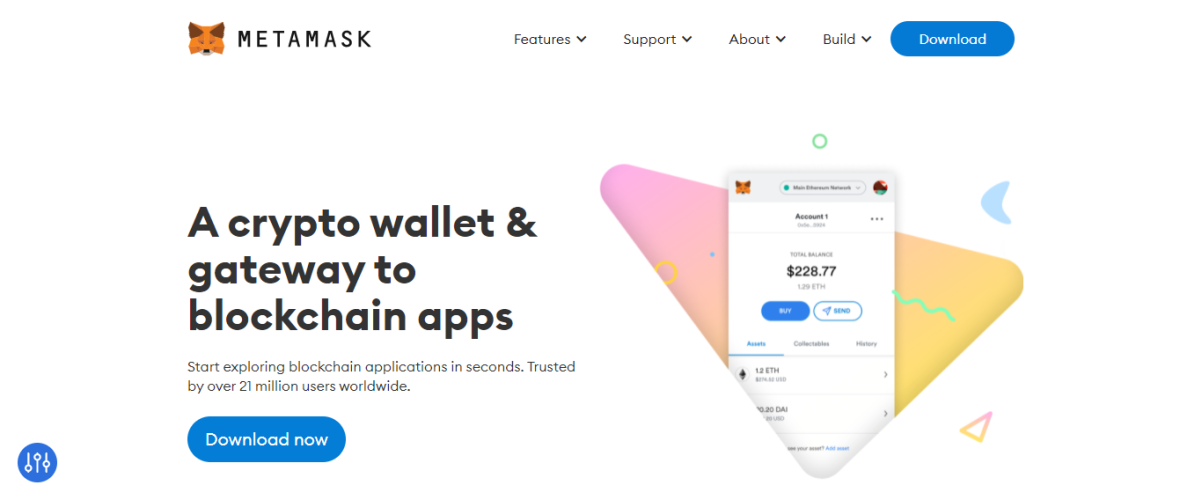 Metamask is the last wallet in our list of the best NFT wallet. It is very popular as a crypto wallet. It is based on quality blockchain technology that lets users interact with the Ethereum system.
Most popular NFTs are currently minted on the Ethereum blockchain so your wallet needs to be able to handle transactions to that chain. When you use Metamask you can rest assured that you are letting a quality product handle your assets because it is safe and secure.
Currently, over 21 million users use Metamask for crypto trading and buying and selling digital assets on the blockchain. They have a plugin for web browsers and this plugin is very secure and lets you easily connect your crypto assets to any crypto-based apps.
Using Metamask you will have an in-depth understanding and knowledge of the crypto market. One of the aims of the company is to create an efficient and powerful platform that has the potential to give access to the general public license to the decentralised web and take crypto to the next level.
---
AlphaWallet
The next wallet on our list of top NFT wallets is AlphaWallet. The company behind this project claims to be the only self-custodial wallet. A lot of people want more discretion when it comes to digital wallets. They want to have more authority over it. AlphaWallet aims to solve that problem. They want to deliver a powerful wallet that is self-custodial meaning you are responsible for your private key.
This means that you have to safeguard access to your private key. When it comes to other wallets they generally follow the custodial approach wherein the financial intermediary which provides you with the facility is also required to be trustworthy like a crypto currency exchange.
If you want to invest in crypto-related products or earn interest on your crypto funds then it is called participating in DeFi or Decentralized Finance which is basically finance related to the blockchain technology.
AlphaWallet is completely open-source. The company wants to give more power to the users of the wallet. It is a complete product. You can just customize it based on your tokens and launch it in a fifth of the time. This product was built by web3 engineers who want to give something to the community.
This technology allows you to engage with decentralized applications using the web3 browsers. You will not need to provide any KYC information to use this wallet because it is non-custodial. You basically own your assets and no other intermediary will come between you and your asset denying you the access to it. Besides all this AlphaWallet is very secure and clans to provide hardware-grade security.
---
What is an NFT?
In this post, we will look at the best nft wallet. To easily buy NFT or sell NFT you need the best wallets for NFT. An NFT is a Non-Fungible Token. It is basically a unique, non-interchangeable form of data that can exist on the blockchain. In general terms, it can be any form of data, be it a video, a song, a document etc.
These units of data can then be minted as NFTs by making them exist on the blockchain. When some data exists on the blockchain it becomes logged into that network and can be authenticated on that network. So, you can own digital assets and blockchain technology ensures that the digital asset is authenticated by your address.
This means when you buy an NFT, a sort contract is signed that lets the network's know which address owns a particular asset. As we said before, if you want to buy NFT,  you need to have wallets for NFT. So, we will list the 7 top NFT wallets in 2022 but before that let's understand what an NFT Wallet is and why you should use it.
What is an NFT Wallet?
Now, we did give a brief about what an NFT is but we didn't really mention much about what an NFT wallet is. So, before we go into the list of the best wallets for NFT so that you can choose the best NFT wallet for yourself, let's understand what an NFT wallet is and why you should use it.
An NFT wallet is meant to store data about your digital assets. Whenever you buy any cryptocurrency or buy an NFT, an NFT wallet allows you to do the transaction as well as helps store the asset that you bought.
But unlike banks where you can directly lock up an asset, like a painting for example, into a locker, the NFT wallet doesn't work like that. Instead of storing the digital data of the NFT the wallet just stores the location of the asset on the blockchain. So, why should you buy wallets for NFT?
Why Should You Use an NFT Wallet?
So, what are some of the benefits of using an NFT wallet to trade NFTs?
They Are Secure
One of the biggest features of the best wallets for NFT is that they are very secure. When you buy an NFT, you are investing a lot of money in what you think is a valuable asset. So, you don't want anything to happen to that asset. Many wallets come with different security features from running two-factor authentication to providing compatibility to hardware wallets that many use.
Friendly Interface
A lot of people want to invest in NFTs and cryptocurrencies but all of them may not be technical. They just want to buy NFT. So, most companies ensure that your wallet provides a user-friendly experience that makes it easier to trade in cryptos. You can even visualize your digital art in a wallet.
Have Access to Your Assets Using Any Device or Platform
When you have NFT wallets you can access them from your smartphone or your desktop. Thus, if you are a digital artist creating NFTs then you can use the NFT wallet to mint your art into an NFT. Then when you are on the go you can always keep tabs on your assets via the NFT wallet you use.
So, these were some of the best wallets for NFT that you can take a look at. We hope you now have more ideas about NFT wallets and are ready to research and find the best NFT wallet for your needs. All the ones we have mentioned are top NFT wallets that many around the world use. We hope our list was helpful and wish you all the best.