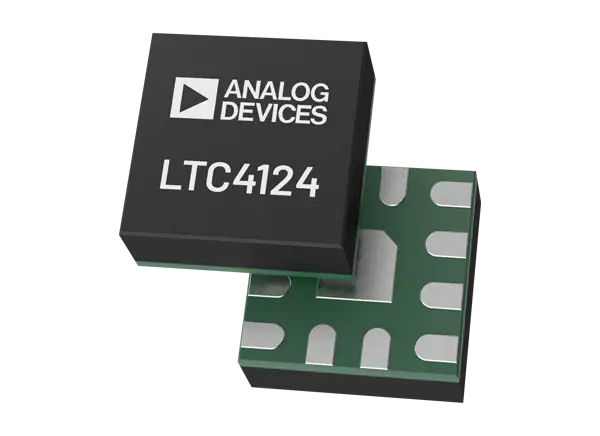 Analog Devices Inc. LTC4124 100mA Wireless Li-Ion Charger is a single-chip wireless power receiver, full-featured linear battery charger, and ideal diode PowerPath™ controller solution. The LTC4124 features pin selectable charge current (up to 100mA) and charge voltage, ensuring versatility while minimizing the number of required external components. Wireless charging with the LTC4124 allows devices to be charged while sealed within enclosures and eliminates bulky connectors in space-constrained applications. Elimination of exposed conductive connectors also creates more robust devices while ensuring an effortless end-user experience.
The LTC4124 includes an NTC input for safe temperature qualified to charge and Low Battery Disconnect prevents damage to a battery due to over-discharging.
The compact 2mm x 2mm LQFN (Quad Flat No-leads) package and a minimal number of external components make the LTC4124 well-suited for low power portable applications where small solution size is mandatory.
Features
Complete Wireless Power Receiver, Li-Ion Charger and PowerPath™ Controller
Wireless Input Power Control and Rectification
Wideband Wireless Power Frequency: DC to >10MHz
Pin-Selectable Charge Current: 10mA/25mA/50mA/100mA
Pin-Selectable Charge Voltage: 4.0V/4.1V/4.2V/4.35V
Pin-Selectable Low Battery Disconnect: 2.7V/3.2V
Zero Battery Drain Current in Disconnect/Ship Mode
Pin-Selectable Enable for Low Battery Pre-Charge Current
NTC Input for Temperature Qualified Charging
Safety Charge Termination Timer
Tiny Total Solution Size with Few Externals
Small Thermally Enhanced LQFN-12 package
Package Dimensions: 2mm × 2mm
RoHS and WEEE compliant
Application Diagram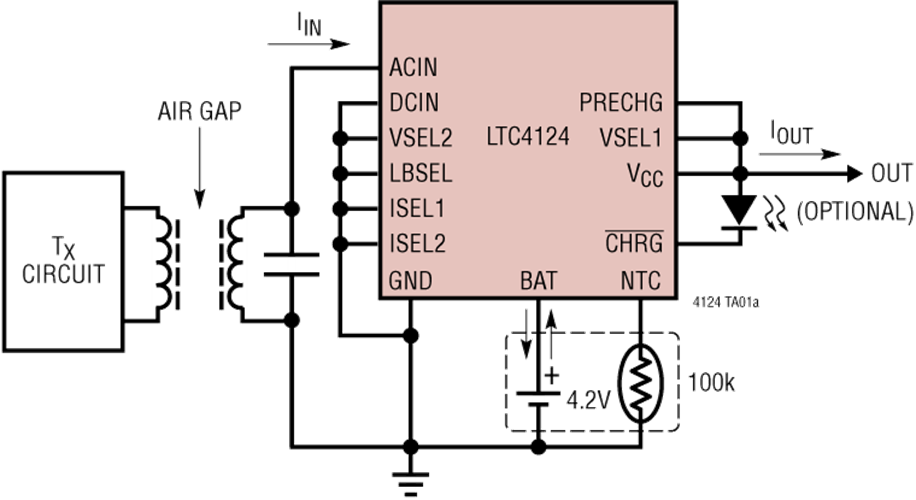 more information: https://www.analog.com/en/products/ltc4124.html