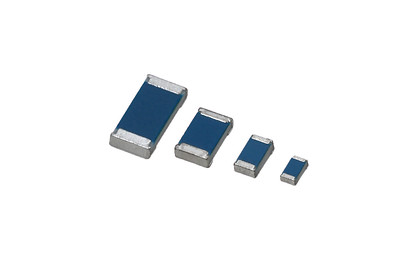 MCS 0402 AT, MCT 0603 AT and MCU 0805 AT offer values from 47Ω to 1 MΩ, 2MΩ and 7.5MΩ respectively. "They join the previously enhanced MCA 1206 AT, which offers resistance up to 10MΩ," according to the company. "The devices released today are designed to deliver stable performance under harsh environmental conditions in automotive, industrial, medical and telecommunications equipment."
Parts offer operation up to between 50 and 200V across -55 to +155°C, with power ratings from 100 to 400mW at +70 °C ambient temperature. They operate over a temperature range.
The devices are AEC-Q200 qualified, RoHS-compliant and sulphur resistance is in accordance with ASTM B 809.
Typical applications will include dc-dc converters, dc-linking and voltage dividers for battery management systems, on-board and on-wall chargers, power inverters, e-compressors and transimpedance amplifier networks.
Part number
MCS 0402 AT
MCT 0603 AT
MCU 0805 AT
MCA 1206 AT
Case size
0402
0603
0805
1206
Resistance range (Ω)
47 to 1M
47 to 2M
47 to 7.5M
47 to 10M
Resistance tolerance
±0.1%
Temp. coefficient
±25 ±15 ±10
±25 ±15 ±10 ±5
±25 ±15 ±10ppm/K
Rated dissipation P70
100mW
125
200
400
Operating voltage
50
75
150
200V
Operating range
-55 to +155°C
Thermal resistance
90
63
38
32K/W
Samples and production quantities of the enhanced resistors are available now.