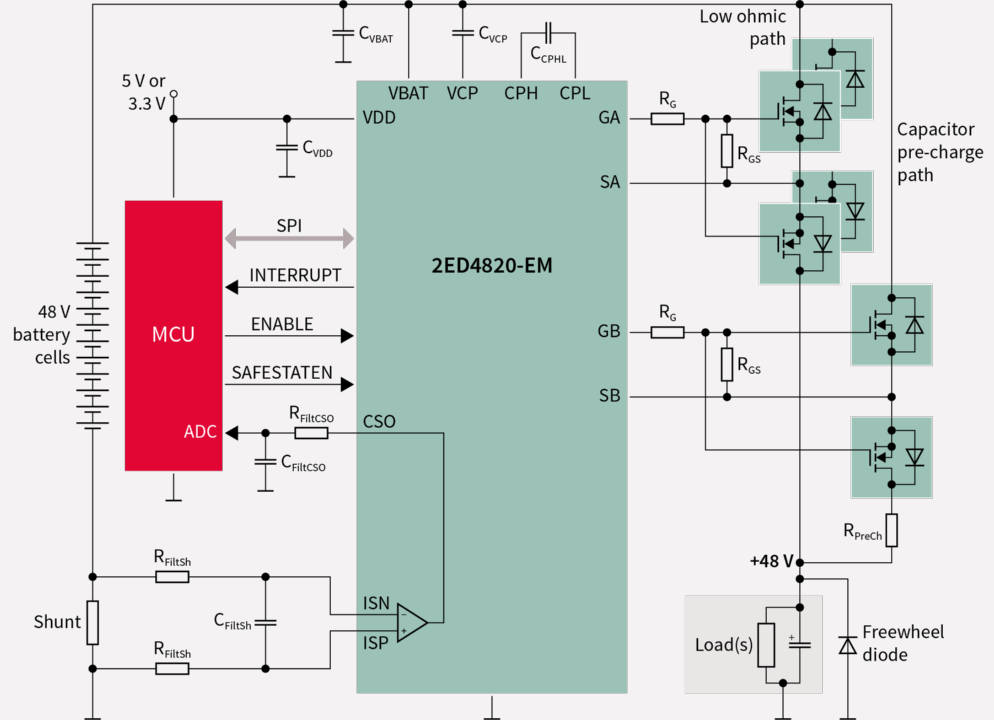 Called 2ED4820-EM and ruggedised against vehicle transients, it can tolerate negative voltages at Vbat down to -90V and voltages up to +105V.
Bus current sensing is included, with the amplifier compatible with both high-side and low-side shunts. "Low-side measurement helps reduce cost, PCB space and the overall power dissipation, since the existing shunt resistor of the battery management system can be used," according to Infineon. "With two output channels, it is possible to control a dedicated pre-charge path or separate the charging and discharging current path of the battery."
Operation is across 20 to 70V, and -40 to 150°C at the junction.
An internal charge pump allows n-mosfet to be used as switches and the outputs are compatible with common-source back-to-back mosfets for bi-directional blocking (see diagram). Common-drain back-to-back operation is also supported, using both output channels to drive a single switch. Output drive is 1A pull-down and 300mA pull-up for fast switching.
Over-current and short-circuit protection is included, alongside ground-loss detection, gate under-voltage lock-out and a pin-enabled safe state with both channels off.
The device is PRO-SIL ISO26262-ready.
And evaluation board is available.
The 2ED4820-EM product page is here and there is a detailed application note