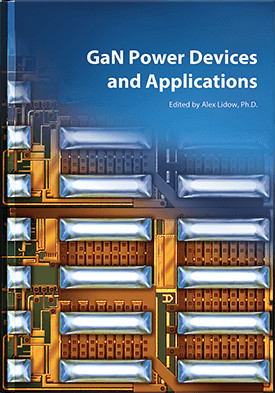 You will not be surprised that his company's products feature heavily in the book, but it is much more than a list of product: it compiles the research and test results of almost 30 authors into a very readable and detailed introduction into GaN power devices, their reliability and their application.
Calling it an introduction above might have given the wrong impression, as there is plenty of information to give designers of silicon power supplies a decent leg-up as they ponder their first GaN power supply, with any text backed up with plenty of diagrams, photos, circuits, graphs, scope plots and equations.
To pick an excerpt at random: 'Continuous hard switching beyond 1,000 hours' in the reliability section begins: "The resistive hard-switching system was used to test six samples of GaN transistor for over 1,000 hours of continuous operation. The purpose of this test is to show that the charge trapping mechanism responsible for the long-term increase in Rds(on) follows a log(time) trend…  and then goes on to discuss the results and their use in many-year life prediction using physics models.
While it is not a backgrounder on power supply architectures, it does contain brief descriptions of applicable architectures and control strategies where necessary – there is plenty for engineers not steeped in power design to get their teeth into.
Applications are split into dc-dc converters, motor drives and laser drivers for lidar, and a further chapter takes GaN into space and discusses the effects of radiation on both GaN and silicon devices. Multi-level converters feature frequently, and the challenges of physically constructing PSUs are examined.
Mentioning silicon, the book thankfully avoids banging on about speed advantages compared with silicon, and also avoids unpleasant comparisons with GaN devices from other manufacturers.
EPC provided a copy of GaN power devices and applications to Electronics Weekly free-of charge.