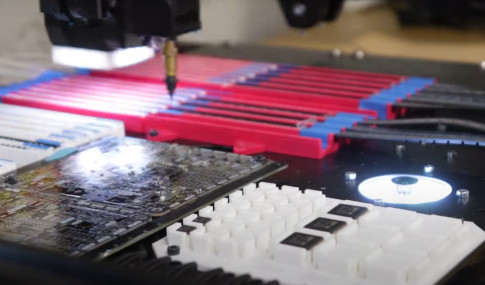 Tweezers and a microscope seem to be the only option, or order part-populated pcbs from one of the big pcb service providers – the latter being quick and easy, but it is still a week (plus a batch) before you can spot the daft error you made.
So imagine my delight when I discovered a company about to offer a pick-and-place machine kit aimed at small companies, using construction techniques inspired by OpenBuilds and the low-cost 3d printer community.
It looks like US-based company is to be called Opulo, founded by a YouTuber called Stephen Hawes.
At this point, alarm bells might be going off – a YouTuber?
We will have watch and see if Hawes gets the company off the ground – he certainly seems motivated enough to crack the start-up game. Only time will tell if he can negotiate the pit-falls. Opulo appears to have seed capital, and to be making its own motherboards on its own pick-and-place machine – shades of Prusa making 3d printers on its own 3d printers.
A second concern might be that the proposed kit is partial – needing plastic structural parts to be 3d printed by the builder.
This does not need to be an issue anymore, as there are plenty of low-cost printers capable of doing this – the Prusa Mini springs to mind as a particularly low-hassle way to reliably get accurate parts for under £500.
And any company, one-person-band or maker capable of building pcb-based modules in-house is almost certainly going to have sufficient skills to build a kit, so questions will come down to time: but long did it take to assemble that last pre-production batch of 20-off with tweezers…?
Something that seems less of a risk is the software, as Hawes is using OpenPnP – yet another marvellous effort by the open-source community, this time for pick-and-place machine control.
Hats off to Mr Hawes, we wish he and his colleagues well with Opulo. The company has yet to have a website – try starting with this video
As usual, caveat emptor – you need to do your own due diligence
And hats off to the generous folk behind OpenPnP – there are also links from there to self-build pick-and-place machines
OpenBuilds is a supplier of mechanical parts that hosts a huge collection of designs built around its products. Oozenest in the UK supplies OpenBuilds parts, and offers its own CNC cutting machine kits.
The Prusa Mini can be found here
Image copied from the linked YouTube video