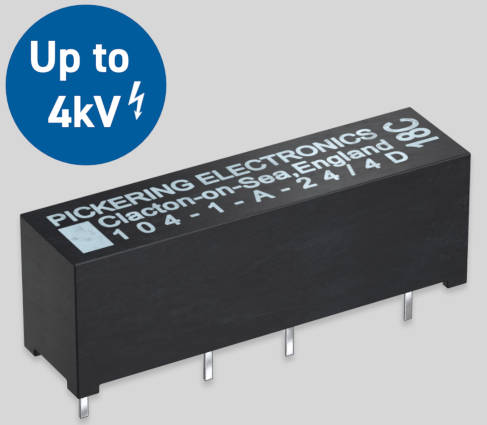 "The higher stand-off voltage allows for an increase in the equipment specification," said Pickering technical specialist Kevin Mallett. ""It also means an increased high voltage protection margin for extra safety and security."
While they can stand-off 4kVdc or ac peak, switching is limited to 1kVdc or ac peak.
The single-pole single-throw normally-open contacts can switch 1A max or 25W max.
The relays can be mounted side-by-side on a quarter inch pitch – dimensions are 6.22 x 24.1 x 8.1, and an internal mu-metal screen reduced magnetic interaction between closely-stacked relays.
The parts are:
104-1-A-5/4    5V 220Ω coil without diode
104-1-A-5/4D 5V 220Ω coil with diode
104-1-A-12/4    12V 500Ω coil without diode
104-1-A-12/4D 12V 500Ω coil with diode
104-1-A-24/4    24V 3kΩ coil without diode
104-1-A-24/4D 24V 3kΩ coil with diode
"As standard, the Series 104 comes with a 25+ years product longevity promise, as Pickering reed relays are manufactured and supported for more than 25 years from introduction," according to the company.
Applications are foreseen in high-voltage automated testing, for example for transformers or cables, and where mains voltages are switched, for example to control and isolate SCR. or triac gates.
Some of the relays on this web page are the 4kV types