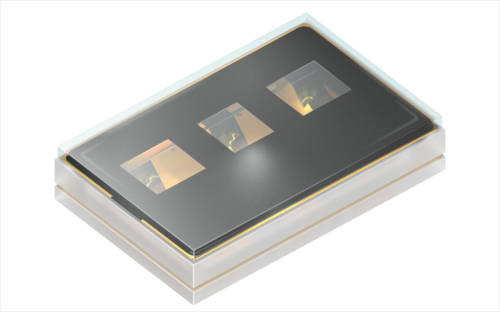 The lasers are 640nm red, 520nm green and 450nm blue, in a 7 x 4.6 x 1.2mm (39mm3) surface-mount package.
Branded Vegalas, the "prototype design for the module demonstrates that a light engine for smart glasses can be compact enough to fit in standard consumer fashion frames", according to the company. "The package is hermetically sealed to prevent contamination and degradation of the module's laser chip-on-sub-mount emitters."
To prove it can fit in glasses, the company has collaborated with partners in the LaSAR Alliance to produce a 10 x 11 x 6mm (0.7cm3) colour laser scanning projection unit – using a MEMS mirror module from STMicroelectronics and a waveguide from Dispelix alongside the laser module.
"This is some 60% smaller than a laser light engine based on three discrete Osram TO38 laser emitters, which is 1.7cm3) in volume," said Osram.
Volume Vegalas production is scheduled for the first half of 2023. Limited samples are available now.
Also for AR glasses, the company is offering infra-red LEDs and sensors for eye tracking and ambient light measurement.
Osram has a near-to-eye projection web page
The LaSAR Alliance describes how the light engine is built here