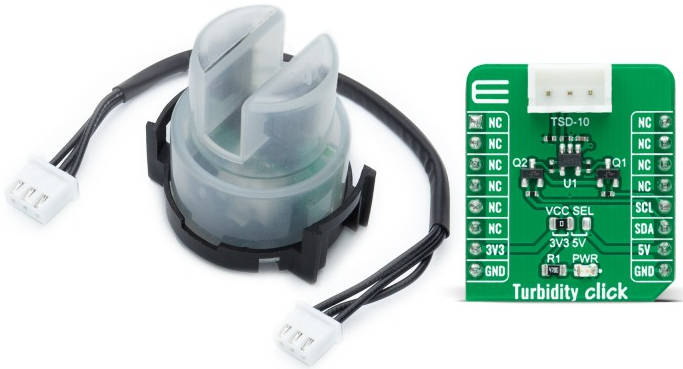 Turbidity Click Bundle incudes a populated PCB conforming to the company's Click interface standard, and Amphenol TSD-10 turbidity sensor, and a 150mm wire with the appropriate connectors on the end. TO get an ide of size, the slotted head of the sensor is 22mm in diameter.
TSD-10, which includes an LED and a phototransistor, was developed by Amphenol for washing machines where it is used to judge how clean the washing water is. It has a 5.7mm wide slot through which to pass a tube carrying the liquid. Amphinol also makes a version (TST-10) with a built-in tube.
On the board is a Microchip MCP3221 12bit ADC to digitise the analogue output of the senosr, with the result presented to the off-board host controller over a 2-wire I2C compatible interface. Transfer is at up to 100kbit/s (Standard) or 400kbit/s in Fast Mode.
A jumper allows the board to work with 3.3V or 5V supply and logic levels. A function library is available.
"The sensors can also measure temperature as well as turbidity," according to Mikroe.
Click boards use the 16pin 'mikroBUS' connector and signal standard developed by Mikroe. Many MCU development boards have mikroBUS sockets.
Find the turbidity bundle here, and the three parts are also available separately.