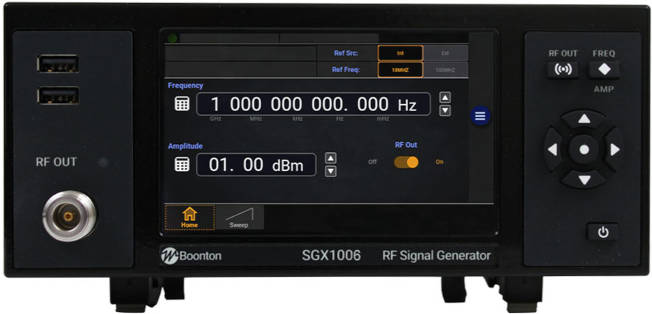 "Proprietary design, combining direct digital and direct analogue synthesis, has resulted in an RF source with ultra-fine frequency resolution, extremely fast frequency switching, ultra-low phase noise and jitter, and superior reliability," according to Saelig, which is distributing the generators. The "non-PLL design, with a digital front-end and a direct proprietary back-end, provides superior CW and sweep capabilities".
The versions are: SGX1003 (3GHz), SGX1006 (6.7GHz) and SGX1018 (18GHz).
They are 89 x 211 x 284mm (optionally rack-mountable) with multi-touch display.
SGX1000, launched in the middle of last year, the first Boonton product that combines its technology with that of its recently acquired subsidiary Holzworth Instrumentation. The generators are made in the USA.