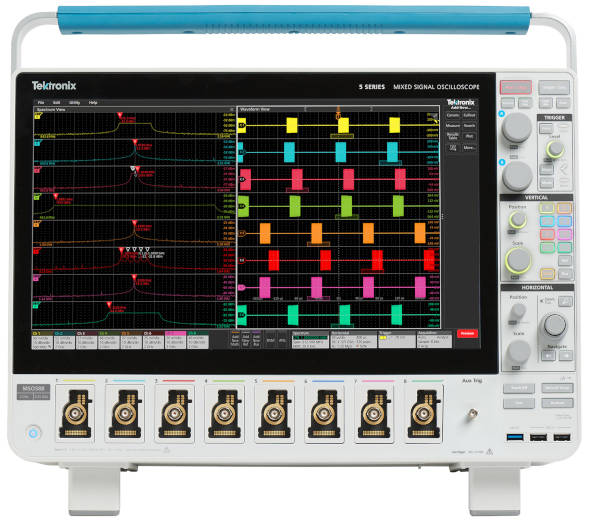 Changes include a new auxiliary trigger input that lets users synchronise the scope to an external signal without consuming any of the 8 (or 6 or 4) main input channels, and an upgrade to 100MHz for the built-in waveform generator (doubled from 50MHz) "enabling higher frequency stimulus for measurements such as Bode plots and impedance measurements", said the company.
A faster internal processor is claimed to make controls more responsive, and able to support future more complex measurement analysis.
The instruments work with Tek's TekScope PC-based off-line analysis tool (allowing the scope to be used elsewhere) and TekDrive cloud storage tool. "Controls are built into the scope to enable saving to TekDrive cloud storage with a single button press. Users can save waveform data to the cloud, allowing teams to work and collaborate almost anywhere in the world," said the company.
Other changes are: a brighter display, history mode that can capture thousands of triggered events though extended memory, and a solid-state system drive so data can be stored on a removable drive "for secure labs where measurement data integrity is mission critical", said Tek.
"Since the release of the original 5 Series, Tek has released 16 firmware updates, each of which has added new capabilities that collectively deepen the instrument's solution coverage measurement applications in areas like serial protocol decoding, motor drive analysis, and RF spectrum analysis," it added.