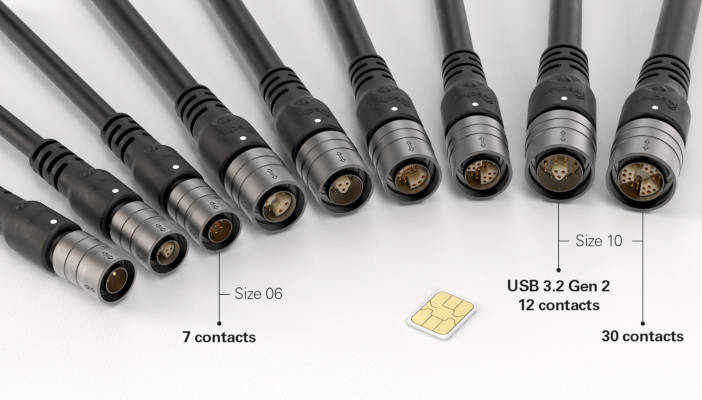 The connector has a 14mm diameter body (Fischer size 10) and comes in two versions so far:
12 signal and power contacts offering USB 3.2 Gen 2 (10Gbit/s, 1m) and up to 8A, for high-speed intercom boxes and next-generation hubs
30 contacts (24x signal, 6x power) for multi-protocol data transmission, such as HDMI, USB and Ethernet, for instrumentation, sensor and IoT interconnections
At the same time, it added a 7 contacts (4x signal, 3x power) variant to its 10mm diameter 'size 06' receptacles for wires up to 22AWG and with a choice of three locking mechanisms: quick-release, push-pull or screw.
"The main reliability features of the MiniMax Series are 5,000 mating cycles, 360° EMC shielding, IP68 sealing (-20m 24h), gas tightness to 10-6 mbar l/s, corrosion resistance, blind mating and operating from -40°C to +135 °C," listed the company.
Cable assemblies are available with straight or angled bend relief over-moulding.
Fischer mentioned two design-ins:
YellowScan's Mapper lightweight lidar for unmanned aerial vehicles uses three MiniMax connectors – it has been used in the Amazon to map ground and vegetation profiles.
ME-Meßsysteme, based in Germany, uses the connectors in its six-axis strain-gauge force sensor, which can be used in high vibration environments.
Fischer designs and makes its connectors at its headquarters in Switzerland.